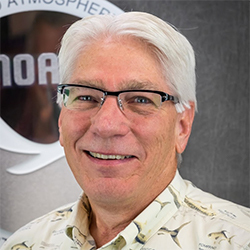 Jeff VanBuskirk joined the U.S. Army after graduating high school in 1973 and served as an infantry mortar crewman towards the end of the Vietnam War.  After several years as an EMT and Operating Room Tech, he started working as a computer operator for IBM within the Federal Systems Division.  Completing his AS and BS degrees in Business Administration he began his NOAA career as a contract Program Manager in 1988 supporting many Forecast Systems Laboratories projects including SOS. He transitioned to Federal employment in 2010 as the ITS Facilities Manager within the Global Systems Division.  Jeff manages GSL's three R&D data centers (7x24) in addition to acting as COR for numerous product and service contracts related to facility infrastructure and IT support services. 
Education
• Moorpark University – AS Business Administration – 1985
• Regis University – BS Business Administration: Management – 1996
• Certified Project Management Professional (PMP) – 2001
• Dept. of Energy, Data Center Energy Practioner (DCEP) – 2020
• NOAA Contracting Officers Representative II – 2013
Experience
• 1981 – 1988 IBM, Federal Systems Division, Computer Operator, Project Manager, Program Manager
• 1988 – 2000  NOAA, Contract Program Manager, Forecast Systems Laboratory
• 2000 – 2002  IBM, Forest Service Contract Sr. Project Manager
• 2002- 2010  Dept. of Energy, Western Area Power Admin, IT Contract Services Program Manager
• 2010 – Present – GSL Information & Technology Services Facility Manager
Professional Activities
• Aims Community College – Project Management Instructor, continuing education 2006-2008
• Colorado State University – Project Management Instructor, continuing education 2008-2018
• Member of the 7X24 Exchange Rocky Mountain Chapter
o Focused on educational seminars for those who manage mission-critical facilities
Honors and Awards
• 2020 Bronze Medal – Leadership for implementing data center upgrades to increase efficiency and resiliency for Research Supercomputing in NOAA.
• 2016 NOAA Silver Sherman Award.
Related Links
https://gsl.noaa.gov/research/divisions/information-and-technology-services-division