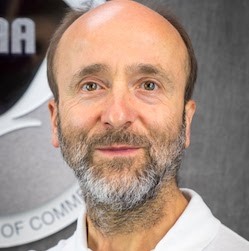 Dr. Zoltan Toth is a Senior Scientist at the Global Systems Laboratory (GSL) with NOAA Research. His research has covered topics in atmospheric and related dynamical systems, including the dimensionality and equilibrium properties of the climatic phase space, the limits of predictability, ensemble forecasting, theoretical and practical aspects of data assimilation, uncertainties in numerical modeling, sensitivity studies, and the statistical calibration and socio-economic use of weather forecasts.
Prior to joining NOAA Research, at the Environmental Modeling Center (EMC) of the National Centers for Environmental Prediction (NCEP), Dr. Toth led the development and first-ever operational implementation of the Global Ensemble Forecast System (GEFS, 1992), the Winter Storm Reconnaissance program (WSR, 2001), and the North American Ensemble Forecast System (NAEFS, 2006).
Dr. Toth played leadership roles in various national and international research organizations and programs, has been an editor of international journals, gave over 70 invited presentations, collaborated with over 400 scientists across the globe, and authored more than 80 refereed publications.


Research Interests 
Weather and climate predictability; Study of the nature and quantitative behavior of error variance in numerical analysis and forecast fields; The fundamental properties of data assimilation, forecast, and ensemble prediction systems; The effect of observing systems on the quality of numerical analyses and forecasts; Statistical post-processing of numerical weather forecasts.


Education
Doctoral Degree, Climatology, Eotvos Lorand University, Budapest, Hungary, 06/1986.
Bachelor's Degree, Meteorology, Eotvos Lorand University, Budapest, Hungary, 06/1981.
Professional Societies
American Meteorological Society - Member, 1993-2005, 2012-2019
European Geophysical Union – Vice-President and Secretary for Predictability, 2003-2010, member, 2018-Present
Hungarian Meteorological Society - Member, 1984-1989
Honors and Awards
Certificate of Recognition "for his international leadership and multifaceted research contributions to US participation in the World Meteorological Organization's THORPEX Weather Research Program" (January 5, 2015, US THORPEX Executive Committee)
Certificate of Appreciation in recognition of "your outstanding contribution to the WMO THORPEX Programme for the years 2005-2014" (November 17, 2014, WMO/WWRP)
United States Department of Commerce Silver Award for Meritorious Federal Service, November 2008. Citation: For implementing the multi-national North American Ensemble Forecast System that led to all-time record high scores for the CPC's extended-range forecasts.
The NOAA/NCEP/EMC Service Award for the Development of the North American Ensemble Forecast System, 2005.
The NOAA/NCEP Environmental Modeling Center Outstanding Performance Award, 2001. Citation: In recognition of his significant efforts and leadership in the targeted observation experiment and the operational ensemble forecast system. 
The NOAA/NMC Development Division Outstanding Performance Award, 1994. Citation: For his major contribution to the advancement of the theory and operational implementation of ensemble forecasting at NMC.
United States Department of Commerce Silver Award for Meritorious Federal Service, November 2008. Citation: For implementing the multi-national North American Ensemble Forecast System that led to all time record high scores for the CPC's extended-range forecasts.
Service Award for the development of the North American Ensemble Forecast System, 200
Certificate of Appreciation in recognition of "your outstanding contribution to the WMO THORPEX Programme for the years 2005-2014" (November 17, 2014, WMO/WWRP)


Link to CV
Link to Publications