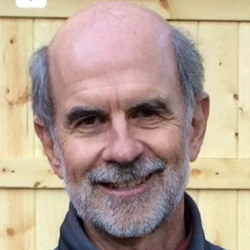 Stan is a partially retired senior scientist for CIRES at the NOAA Global Systems Lab. Stan grew up in the DC area but also lived in Canada for 2 years during elementary school and has strong family heritage from Michigan and West Virginia.
Research Interests
Applying the scientific method in this 3-way interaction: 
(1) using obs ↔
(2) understanding earth-system processes ↔
(3) developing models/assimilation ↔ (1). 
In this context: Development of weather and earth-system prediction models and related data assimilation systems, with applications to transportation, severe weather, energy, hydrology, health, and general weather guidance.
Education
Ph.D. Meteorology, 1983:  Penn State University, University Park, PA                                                      
M.S.  Meteorology, 1980: Penn State University                              
B.A. Mathematics, 1973:  Albion College, Albion, Michigan

Experience
Senior Scientist for Advanced Modeling Systems 

NOAA Global Systems Laboratory (May 2017-current)                                 

Chief, Assimilation Development Branch, Earth Modeling Branch,Assimilation and Modeling Branch 

NOAA/ESRL Global Systems Division (2004-2017)                                

Research Meteorologist, NOAA 

NOAA/ESRL Global Systems Division (1990-present)

Research Scientist, National Center for Atmospheric Research 

NCAR Affiliated with NOAA Research (1983-1990)

Professional Activities
AMS - Fellow since 2004
AGU - member since 2016
EGU - member since 2015
JCSDA - Joint Center for Satellite Data Research Assimilation Executive Team - Liaison for NOAA Research - since 2014
Korean Institute for Atmospheric Prediction System Science Advisory Committee since 2016
Cooperative Institute for Research in Environmental Sciences (CIRES) Fellow since 2011


Honors and Awards
2019 Penn State University Charles Hosler Award
For outstanding contributions to the development of science through research, teaching, or administrative leadership

2017 NOAA Technology Transfer Award
For improving forecasts of turbine-height winds and solar irradiance from the High-Resolution Rapid Refresh (HRRR) weather model to improve usage of renewable power by industry. (group award)

2015 U.S. Department of Commerce Gold Medal 
Scientific and Engineering Achievement
For achieving success with the HRRR, the first storm-scale model to give forecasters and decision-makers fast, local weather guidance. (group award)

2006 U.S. Department of Commerce Gold Medal
Scientific and Engineering Achievement
For development of Global Positioning System Meteorology, a new low cost, upper-air observing
system demonstrated to advance weather forecasting, climate monitoring, and atmospheric research. (group award)