Skip to main content
Title
Chief - Information Technology Services Division
Email
Phone
505-718-1213
Address
DSRC
325 Broadway
Boulder, CO 80305-3328
Affiliation
Federal
Awards
Profile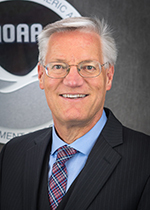 Scott graduated from the University of Colorado Naval ROTC program and served aboard the USS Germantown as the Electronics Material Officer and Electronic Warfare Officer. He began his NOAA career as a contractor working for the Wind Profiler Program in the Forecast Systems Laboratory as a Logistics Engineer in 1997. Scott transitioned to Federal employment in 2001 as the (IT) Facilities Manager within the Information and Technology Services branch of the Global Systems Division. Scott has been serving as the Information & Technology Services Chief and the Senior IT Manager for the Global Systems Laboratory since August of 2010.
Position
Information & Technology Services Division Chief
GSL Senior IT Manager
Education
University of Colorado (BA) – NROTC – Class of 1983
Naval Science Institute and the Naval Surface Warfare Officers Basic Course – Class of 1984
Colorado Leadership Development Program – Class of 2011
Experience
1983 – 1988 United States Navy, Lieutenant (USS Germantown-LSD42) Division Officer
1988 – 1997 D.P.I. Food Products Company (Sales/Distributor)
1997 – 2001 Logistics Engineer – NOAA Wind Profiler Network
2001 – 2010 Federal Logistics Management Specialist (Data Center Manager)
2010 – Present Supervisory IT Specialist – GSL Information & Technology Services Division Chief / GSL Senior IT Manager
Professional Activities
Executive Vice President 7X24 Exchange Rocky Mountain Chapter

Focused on educational seminars for those who manage mission-critical facilities

OAR Representative on the Federal Data Center Optimization Initiative
Honors and Awards
2014 Bronze Medal – Dedication in acquiring supercomputing services to sustain the production of the Nation's operational numerical weather and climate forecast systems.
2005 Administrator's Award – Developing and issuing integrated requirements for a NOAA high-performance computer system that realistically demonstrates the One-NOAA vision.
2001 – Certificate of Recognition – Exemplary support to NOAA's Profiler and GPS Water Vapor Networks from February 1997 through August 2001.
Related Links