Skip to main content
Title
Research Scientist
Email
Phone
970-235-1647
Address
DSRC
325 Broadway
Boulder, CO 80305-3328
Affiliation
CIRES
Awards
Profile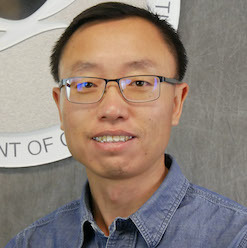 My current work focuses on improving skills of weather and air quality prediction through data assimilation and information blending for FV3 and Community Multi-scale Air Quality Model (CMAQ)  models. 
Research Interests
3/4D Variational/Ensemble data assimilation techniques
Targeted data, radar and satellite observation assimilation
Adjoint and ensemble-based study for adaptive observations, forecast and observations impact
Atmospheric predictability study 
Education
2010   Ph. D. in Meteorology

Institute of Atmospheric Physics, Chinese Academy of Sciences, China

2004  M. S. in Meteorology

Nanjing Institute of Meteorology, China

2001  B. S. in Atmospheric dynamics

Nanjing Institute of Meteorology, China
Personal Website
Publications
Membership and service on professional, technical, or scientific societies and journals
Editor: Atmospheric and Oceanic Science Letters (10/2015-present)
Reviewer: 

Quarterly Journal of the Royal Meteorological Society
Monthly Weather Review
Journal of Geophysical Research: Atmospheres
Meteorology and Atmospheric Physics
Advances in Atmospheric Sciences
Service on NOAA Boards, committees, and projects
2020-present: PI: Assimilation of Aerosol Optical Depth (AOD) in the CAM-CMAQ Model. Founding source: NOAA. 
2014-2016 Co-PI: "NOAA's Observing System Experiments and Observing System Simulation Experiments in support of the "Sensing Hazards with Operational Unmanned Technology" (SHOUT) Program - Development and Testing of Sampling Strategies for Unmanned Aerial Systems". Founding source: NOAA. 
2014-2016 Co-PI: "CIRA Participation in the Establishment of a NOAA Laboratory Activity for Observing System Simulation Experiments (OSSEs)". NOAA.