Skip to main content
Title
Chief - Earth Prediction Advancement Division
Email
Phone
720-466-3268
Address
DSRC
325 Broadway
Boulder, CO 80305-3328
Affiliation
Federal
Awards
Profile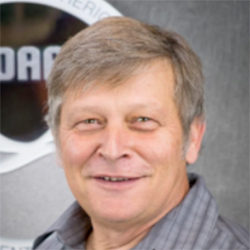 Georg Grell received his Ph.D. as a collaborative dissertation (NCAR and the University of Miami) in 1988. He first worked at NCAR before coming to NOAA - Forecast Systems Laboratory (FSL) in 1992. He spent 4 years (1994 – 1998) in Germany at the University of Munich and at the Fraunhofer Institute in Garmisch-Partenkirchen with a research focus on regional climate applications and air quality forecasting, developing the online MM5-Chemistry model. He rejoined FSL in January of 1999, where he led the development of the Weather Research and Forecast model coupled with Chemistry (WRF-Chem) as well as the development of convective parameterizations. Georg serves on the Scientific Advisory Group on Near-Real-Time applications of the Global Atmospheric Watch (GAW) program of the World Meteorological. Organization (WMO). He leads the WRF-Chem working group (http://wrf-model.org/WG11), is a member of the WRF Research and Applications Board, and served as an invited expert on COST (European Corporation in the field of Scientific and Technical Research) actions. Georg is affiliated with the University of Alaska in Fairbanks, and a member of the scientific steering committee of the Shanghai Typhoon Center. Georg is a Co-Chair of the UFS physics working group and the convective parameterization sub-group.
Research Interests
Development of large complex modeling systems
Physics parameterization development
Air quality forecasting
Aerosol-radiation-cloud interaction

Education
Doctorate of Philosophy, Atmospheric Science, University of Miami, in 1988. Thesis title: Semiprognostic Tests of Cumulus Parameterizations in the Mid-latitudes.
Vordiplom in Meteorology, University of Bonn, Germany, in 1981.


Awards
Haagen-Smit prize in 2016 for the 2005 WRF-Chem paper
2017 OAR's outstanding Scientific Paper Award for the 2014 publication of the Grell-Freitas convective parameterization

Publications (order most cited)

Web of Science ResearcherID: B-6234-2015

Grell, G. A., J. Dudhia, and D. R. Stauffer, A description of the fifth-generation Penn State/NCAR Mesoscale Model (MM5), NCAR/TN-398+STR, 138pp. National Center for Atmospheric Research, Boulder, Colorado, 1994. doi:10.5065/D60Z716B

Fully coupled "online" chemistry within the WRF model 
Published: Dec 2005 in Atmospheric Environment. 
DOI:10.1016/J.ATMOSENV.2005.04.027

PROGNOSTIC EVALUATION OF ASSUMPTIONS USED BY CUMULUS PARAMETERIZATIONS
Published: 1993 in Monthly Weather Review
DOI: 10.1175/1520-0493(1993)121<0764:PEOAUB>2.0.CO;2

A generalized approach to parameterizing convection combining ensemble and data assimilation techniques
Published: Jul 2002 in Geophysical Research Letters
DOI: 10.1029/2002GL015311

Evolution of ozone, particulates, and aerosol direct radiative forcing in the vicinity of Houston using a fully coupled meteorology-chemistry-aerosol model
Authors (8): Fast, Jerome D.; Gustafson, William I., Jr Peckham, Steven E.
Published: Nov 2006 in Journal of Geophysical Research: Atmospheres DOI: 10.1029/2005JD006721

An hourly assimilation-forecast cycle: The RUC
Authors (11): Benjamin, SG; Devenyi, D Manikin, GS
Published: 2004 in Monthly Weather Review
DOI: 10.1175/1520-0493(2004)132<0495:AHACTR>2.0.CO;2

A scale and aerosol aware stochastic convective parameterization for weather and air quality modeling
Authors (2): Grell, G. A.; Freitas, S. R.
Published: May 2014 in Atmospheric Chemistry and Physics DOI: 10.5194/ACP-14-5233-2014

A North American Hourly Assimilation and Model Forecast Cycle: The Rapid Refresh
Authors (16): Benjamin, Stanley G.; Weygandt, Stephen S. Manikin, Geoffrey S.
Published: 2016 in Monthly Weather Review DOI: 10.1175/MWR-D-15-0242.1

THE WEATHER RESEARCH AND FORECASTING MODEL Overview, System Efforts, and Future Directions
Authors (25): Powers, Jordan G.; Klemp, Joseph B. Duda, Michael G.
Published: 2017 in Bulletin of the American Meteorological Society DOI: 10.1175/BAMS-D-15-00308.1

Online coupled regional meteorology chemistry models in Europe: current status and prospects
Authors (39): Baklanov, A.; Schluenzen, K. Zhang, Y.
Published: 2014 in Atmospheric Chemistry and Physics DOI: 10.5194/ACP-14-317-2014

Satellite-observed US power plant NOx emission reductions and their impact on air quality
Authors (10): Kim, S. -W.; Heckel, A. Grell, G. A.
Published: 2006 in Geophysical Research Letters DOI: 10.1029/2006GL027749

Effects of changing power plant NOx emissions on ozone in the eastern United States: Proof of concept
Authors (19): Frost, G. J.; McKeen, S. A. Habermann, T.
Published: 2006 in Journal of Geophysical Research: Atmospheres DOI: 10.1029/2005JD006354

Mesoscale weather prediction with the RUC hybrid isentropic-terrain-following coordinate model
Authors (5): Benjamin, SG; Grell, GA Bleck, R
Published: 2004 in Monthly Weather Review
DOI: 10.1175/1520-0493(2004)132<0473:MWPWTR>2.0.CO;2

Application of a multiscale, coupled MM5/chemistry model to the complex terrain of the VOTALP valley campaign
Authors (8): Grell, GA; Emeis, S Seidl, W
Published: Jan 2000 in Atmospheric Environment DOI: 10.1016/S1352-2310(99)00402-1

Monitoring the transport of biomass burning emissions in South America
Authors (9): Freitas, SR; Longo, KM Recuero, FS
Published: Apr 2005 in Environmental Fluid Mechanics DOI: 10.1007/S10652-005-0243-7

Assessment of an ensemble of seven real-time ozone forecasts over eastern North America during the summer of 2004
Authors (20): S. McKeen; J. Wilczak ... R. Mathur
Published: 2005 in Journal of Geophysical Research: Atmospheres DOI: 10.1029/2005JD005858

Evaluation of several PM 2.5 forecast models using data collected during the ICARTT/NEAQS 2004 field study
Published: Mar 2007 in Journal of Geophysical Research: Atmospheres
DOI: 10.1029/2006JD007608

Operational model evaluation for particulate matter in Europe and North America in the context of AQMEII
Authors (32): Solazzo, Efisio; Bianconi, Roberto ... Galmarini, Stefano
Published: 2012 in Atmospheric Environment DOI: 10.1016/J.ATMOSENV.2012.02.045

Model evaluation and ensemble modelling of surface-level ozone in Europe and North America in the context of AQMEII
Authors (36): Solazzo, Efisio; Bianconi, Roberto ... Galmarini, Stefano
Published: 2012 in Atmospheric Environment DOI: 10.1016/J.ATMOSENV.2012.01.003

Inclusion of biomass burning in WRF-Chem: impact of wildfires on weather forecasts
Authors (4): Grell, G.; Freitas, S. R. Fast, J.
Published: Jun 2011 in Atmospheric Chemistry and Physics DOI: 10.5194/ACP-11-5289-2011

The Coupled Aerosol and Tracer Transport model to the Brazilian developments on the Regional Atmospheric Modeling System (CATT-BRAMS)
- Part 1: Model description and evaluation
Authors (11): Freitas, S. R.; Longo, K. M. Panetta, J.
Published: Apr 2009 in Atmospheric Chemistry and Physics DOI: 10.5194/ACP-9-2843-2009

Integrated modeling for forecasting weather and air quality: A call for fully coupled approaches
Published: Dec 2011 in Atmospheric Environment
DOI: 10.1016/J.ATMOSENV.2011.01.017

Data assimilation in atmospheric chemistry models: current status and future prospects for coupled chemistry meteorology models
Authors (18): Bocquet, M.; Elbern, H. Seigneur, C.
Published: May 2015 in Atmospheric Chemistry and Physics DOI: 10.5194/ACP-15-5325-2015

SEMIPROGNOSTIC TESTS OF CUMULUS PARAMETERIZATION SCHEMES IN THE MIDDLE LATITUDES
Published: 1991 in Monthly Weather Review
DOI: 10.1175/1520-0493(1991)119<0005:STOCPS>2.0.CO;2

PREP-CHEM-SRC-1.0: a preprocessor of trace gas and aerosol emission fields for regional and global atmospheric chemistry models
Authors (9): Freitas, S. R.; Longo, K. M. Sanchez Gacita, M.
Published: May 2011 in Geoscientific Model Development DOI: 10.5194/GMD-4-419-2011

Effect of aerosol-radiation feedback on regional air quality – A case study with WRF/Chem
Published: Jun 2012 in Atmospheric Environment
DOI: 10.1016/J.ATMOSENV.2011.10.009

Meteorological Research Needs for Improved Air Quality Forecasting: Report of the 11th Prospectus Development Team of the U.S. Weather Research Program *
Published: Apr 2004 in Bulletin of the American Meteorological Society
DOI: 10.1175/BAMS-85-4-563

A CLASS OF MONOTONE-INTERPOLATION SCHEMES
Authors (2): SMOLARKIEWICZ, PK; GRELL, GA
Published: Aug 1992 in Journal of Computational Physics DOI: 10.1016/0021-9991(92)90018-T

WRF-Chem simulation of East Asian air quality: Sensitivity to temporal and vertical emissions distributions
Authors (11): Wang, Xueyuan; Liang, Xin-Zhong Peckham, Steven E.
Published: Feb 2010 in Atmospheric Environment DOI: 10.1016/J.ATMOSENV.2009.11.011

THE ERICA IOP-5 STORM .2. SENSITIVITY TESTS AND FURTHER DIAGNOSIS BASED ON MODEL OUTPUT
Published: 1993 in Monthly Weather Review
DOI: 10.1175/1520-0493(1993)121<1595:TEISPI>2.0.CO;2

Implementation and initial application of new chemistry-aerosol options in WRF/Chem for simulating secondary organic aerosols and aerosol indirect effects for regional air quality
Published: Aug 2015 in Atmospheric Environment
DOI: 10.1016/J.ATMOSENV.2014.12.007

Three-dimensional variational data assimilation of ozone and fine particulate matter observations: some results using the Weather Research and Forecasting-Chemistry model and Grid-point Statistical Interpolation
Published: Oct 2010 in Quarterly Journal of the Royal Meteorological Society
DOI: 10.1002/QJ.700

Online versus offline air quality modeling on cloud-resolving scales
Published: 2004 in Geophysical Research Letters DOI: 10.1029/2004GL020175

WRF/Chem-MADRID: Incorporation of an aerosol module into WRF/Chem and its initial application to the TexAQS2000 episode
Authors (5): Yang Zhang; Ying Pan ... Georg A. Grell
Published: Sep 2010 in Journal of Geophysical Research: Atmospheres DOI: 10.1029/2009JD013443

The VOTALP Mesolcina Valley campaign 1996 - concept, background and some highlights
Authors (11): Furger, M; Dommen, J ... Wotawa, G
Published: Jan 2000 in Atmospheric Environment DOI: 10.1016/S1352-2310(99)00377-5

Regional Climate Model Simulation of U.S.–Mexico Summer Precipitation Using the Optimal Ensemble of Two Cumulus Parameterizations
Published: Oct 2007 in Journal of Climate
DOI: 10.1175/JCLI4306.1

Development and initial application of the global-through-urban weather research and forecasting model with chemistry (GU-WRF/Chem)
Published: Oct 2012 in Journal of Geophysical Research: Atmospheres
DOI: 10.1029/2012JD017966

Experiments with the assimilation of fine aerosols using an ensemble Kalman filter
Published: Nov 2012 in Journal of Geophysical Research: Atmospheres
DOI: 10.1029/2012JD018333

Ensemble and bias-correction techniques for air quality model forecasts of surface O3 and PM2.5 during the TEXAQS-II experiment of 2006
Published: Feb 2010 in Atmospheric Environment
DOI: 10.1016/J.ATMOSENV.2009.11.007

An evaluation of real-time air quality forecasts and their urban emissions over eastern Texas during the summer of 2006 Second Texas Air Quality Study field study
Authors (23): S. McKeen; G. Grell ... R. Mathur
Published: Jun 2009 in Journal of Geophysical Research: Atmospheres DOI: 10.1029/2008JD011697

The New England Air Quality Forecasting Pilot Program: development of an evaluation protocol and performance benchmark
Published: Dec 2005 in Journal of the Air & Waste Management Association
DOI: 10.1080/10473289.2005.10464775

Bias-corrected ensemble and probabilistic forecasts of surface ozone over eastern North America during the summer of 2004
Published: Dec 2006 in Journal of Geophysical Research: Atmospheres
DOI: 10.1029/2006JD007598

A Kalman-filter bias correction method applied to deterministic, ensemble averaged and probabilistic forecasts of surface ozone
Published: Jan 2017 in Tellus, Series B: Chemical and Physical Meteorology
DOI: 10.1111/J.1600-0889.2007.00332.X

Analyzing the Eyjafjallajokull 2010 eruption using satellite remote sensing, lidar and WRF-Chem dispersion and tracking model
Authors (6): Webley, P. W.; Steensen, T Pavolonis, M.
Published: Jul 2012 in Journal of Geophysical Research: Atmospheres DOI: 10.1029/2011JD016817

A simple method to improve ensemble-based ozone forecasts
Published: Apr 2005 in Geophysical Research Letters DOI: 10.1029/2004GL022305

Nonhydrostatic climate simulations of precipitation over complex terrain
Published: Dec 2000 in Journal of Geophysical Research: Atmospheres DOI: 10.1029/2000JD900445

WRF-Chem model sensitivity to chemical mechanisms choice in reconstructing aerosol optical properties
Published: Aug 2015 in Atmospheric Environment
DOI: 10.1016/J.ATMOSENV.2014.12.033

Constraining black carbon aerosol over Asia using OMI aerosol absorption optical depth and the adjoint of GEOS-Chem
Authors (11): Zhang, L.; Henze, D. K. Mao, Y.
Published: 2015 in Atmospheric Chemistry and Physics DOI: 10.5194/ACP-15-10281-2015

THE ERICA IOP-5 STORM .1. ANALYSIS AND SIMULATION
Published: 1993 in Monthly Weather Review
DOI: 10.1175/1520-0493(1993)121<1577:TEISPI>2.0.CO;2

Meteorological evaluation of a weather-chemistry forecasting model using observations from the TEXAS AQS 2000 field experiment
Authors (4): J.-W. Bao; S. A. Michelson G. A. Grell
Published: 2005 in Journal of Geophysical Research: Atmospheres DOI: 10.1029/2004JD005024

A Performance Comparison between Multiphysics and Stochastic Approaches within a North American RAP Ensemble
Authors (9): Jankov, Isidora; Berner, Judith Brown, John M. Brown
Published: 2017 in Monthly Weather Review DOI: 10.1175/MWR-D-16-0160.1

Analyzing the Grell-Freitas Convection Scheme from Hydrostatic to Nonhydrostatic Scales within a Global Model
Authors (5): Fowler, Laura D.; Skamarock, William C. Duda, Michael G.
Published: 2016 in Monthly Weather Review DOI: 10.1175/MWR-D-15-0311.1

Inclusion of ash and SO2 emissions from volcanic eruptions in WRF-Chem: development and some applications
Authors (7): Stuefer, M.; Freitas, S. R. Egan, S. D.
Published: Apr 2013 in Geoscientific Model Development DOI: 10.5194/GMD-6-457-2013

Application of dynamic linear regression to improve the skill of ensemble- based deterministic ozone forecasts
Published: Jun 2006 in Atmospheric Environment
DOI: 10.1016/J.ATMOSENV.2006.02.006

Analysis of regional meteorology and surface ozone during the TexAQS II field program and an evaluation of the NMM-CMAQ and WRF-Chem air quality models
Authors (10): James M. Wilczak; Irina Djalalova Pius Lee
Published: Jul 2009 in Journal of Geophysical Research: Atmospheres DOI: 10.1029/2008JD011675

Sensitivity analysis of the microphysics scheme in WRF-Chem contributions to AQMEII phase 2
Authors (15): Baro, Rocio; Jimenez-Guerrero, Pedro Zabkar, Rahela
Published: Aug 2015 in Atmospheric Environment DOI: 10.1016/J.ATMOSENV.2015.01.047

The Aerosol Modeling Testbed: A Community Tool to Objectively Evaluate Aerosol Process Modules
Published: Mar 2011 in Bulletin of the American Meteorological Society
DOI: 10.1175/2010BAMS2868.1

Sensitivity of feedback effects in CBMZ/MOSAIC chemical mechanism
Authors (17): San Jose, R.; Perez, J. L. Zabkar, R.
Published: 2015 in Atmospheric Environment DOI: 10.1016/J.ATMOSENV.2015.04.030

Influence of ship emissions on air quality and input of contaminants in southern Alaska National Parks and Wilderness Areas during the 2006 tourist season
Published: Apr 2010 in Atmospheric Environment
DOI: 10.1016/J.ATMOSENV.2010.02.003

Implementation of aerosol assimilation in Gridpoint Statistical Interpolation (v.3.2) and WRF-Chem (v. 3.4.1)
Published: Aug 2014 in Geoscientific Model Development
DOI: 10.5194/GMD-7-1621-2014

Deposition and rainwater concentrations of trifluoroacetic acid in the United States from the use of HFO-1234yf
Published: Dec 2014 in Journal of Geophysical Research: Atmospheres
DOI: 10.1002/2014JD022058

Qualitative comparison of Mount Redoubt 2009 volcanic clouds using the PUFF and WRF-Chem dispersion models and satellite remote sensing data
Authors (5): Steensen, T.; Stuefer, M. Freitas, S.
Published: Jun 2013 in Journal of Volcanology and Geothermal Research DOI: 10.1016/J.JVOLGEORES.2012.02.018

The Brazilian Global Atmospheric Model (BAM): Performance for Tropical Rainfall Forecasting and Sensitivity to Convective Scheme and Horizontal Resolution
Authors (23): Figueroa, Silvio N.; Bonatti, Jose P Panetta, Jairo
Published: Oct 2016 in Weather and Forecasting DOI: 10.1175/WAF-D-16-0062.1

What factors control the trend of increasing AAOD over the United States in the last decade?
Authors (6): Zhang, Li; Henze, Daven K. Lamsal, Lok N.
Published: 2017 in Journal of Geophysical Research: Atmospheres DOI: 10.1002/2016JD025472

Evaluation of MJO Predictive Skill in Multiphysics and Multimodel Global Ensembles
Authors (5): Green, Benjamin W.; Sun, Shan Grell, Georg A.
Published: 2017 in Monthly Weather Review DOI: 10.1175/MWR-D-16-0419.1

A new chemistry option in WRF-Chem v. 3.4 for the simulation of direct and indirect aerosol effects using VBS: evaluation against IMPACT-EUCAARI data
Authors (7): Tuccella, P.; Curci, G. Mensah, A. A.
Published: 2015 in Geoscientific Model Development DOI: 10.5194/GMD-8-2749-2015

Ensemble-based ozone forecasts: Skill and economic value
Published: Nov 2006 in Journal of Geophysical Research: Atmospheres DOI: 10.1029/2006JD007124

Assessing the Grell-Freitas Convection Parameterization in the NASA GEOS Modeling System
Authors (7): Freitas, Saulo R.; Grell, Georg A. Souza, Enio P.
Published: 2018 in Journal of Advances in Modeling Earth Systems DOI: 10.1029/2017MS001251

Summary and Recommendations on Integrated Modelling
Authors (9): Baklanov, Alexander; Grell, Georg Zhang, Yang
Published: 2011 in Integrated Systems of Meso-meteorological and Chemical Transport Models DOI: 10.1007/978-3-642-13980-2_22

Impact of changes in temperature and precipitation on N2O and NO emissions from forest soils
Authors (5): Butterbach-Bahl, K; Stange, F ... Li, C
Published: 2000 in NON-CO2 GREENHOUSE GASES: SCIENTIFIC UNDERSTANDING, CONTROL AND IMPLEMENTATION
DOI: 10.1007/978-94-015-9343-4_22

Sense size-dependent dust loading and emission from space using reflected solar and infrared spectral measurements: An observation system simulation experiment
Authors (8): Xu, Xiaoguang; Wang, Jun ... Wielicki, Bruce A.
Published: Aug 2017 in Journal of Geophysical Research: Atmospheres DOI: 10.1002/2017JD026677

Firefly optimization to determine the precipitation field on South America
Authors (6): dos Santos, Ariane F.; de Campos Velho, Haroldo F Gan, Manoel A.
Published: 2013 in Inverse Problems in Science and Engineering DOI: 10.1080/17415977.2012.712531

Subseasonal Forecasting with an Icosahedral, Vertically Quasi-Lagrangian Coupled Model. Part I: Model Overview and Evaluation of Systematic Errors
Authors (5): Sun, Shan; Bleck, Rainer Grell, Georg A.
Published: 2018 in Monthly Weather Review DOI: 10.1175/MWR-D-18-0006.1

Potential Impacts of the Introduction of Low-Sulfur Fuel on PM2.5 Concentrations at Breathing Level in a Subarctic City
Authors (4): Leelasakultum, Ketsiri; Moelders, Nicole Grell, Georg A.
Published: 2012 in Advances in Meteorology DOI: 10.1155/2012/427078

The effects of simulating volcanic aerosol radiative feedbacks with WRF- Chem during the Eyjafjallajokull eruption, April and May 2010
Authors (8): Hirtl, Marcus; Stuefer, Martin Webley, Peter
Published: 2019 in Atmospheric Environment DOI: 10.1016/J.ATMOSENV.2018.10.058

Using VIIRS Fire Radiative Power data to simulate biomass burning emissions, plume rise and smoke transport in a real-time air quality modeling system
Authors (12): Ahmadov, R.; Grell, G. Goldberg, M.
Published: Jul 2017 in International Geoscience and Remote Sensing Symposium (IGARSS) DOI: 10.1109/IGARSS.2017.8127581

On-Line Chemistry Within WRF: Description and Evaluation of a State-of-the- Art Multiscale Air Quality and Weather Prediction Model
Authors (7): Grell, Georg; Fast, Jerome Freitas, Saulo
Published: 2011 in Integrated Systems of Meso-meteorological and Chemical Transport Models DOI: 10.1007/978-3-642-13980-2_3

Distribution of sulfur aerosol precursors in the SPCZ released by continuous volcanic degassing at Ambrym, Vanuatu
Authors (7): Lefevre, Jerome; Menkes, Christophe ... Frouin, Robert
Published: 2016 in Journal of Volcanology and Geothermal Research DOI: 10.1016/J.JVOLGEORES.2015.07.018

Exploring Aerosol Effects on Rainfall for Brisbane, Australia
Authors (5): Hewson, Michael; McGowan, Hamish ... Grell, Georg Published: 2013 in Climate
DOI:  10.3390/CLI1030120

Real-time simultaneous prediction of air pollution and weather during the Houston 2000 field experiment
Published: 2002 in Fourth Conference on Atmospheric Chemistry: Urban, Regional and Global Scale Impacts of
Air Pollutants

The rapid update cycle at NMC
Published: 1994 in NUMERICAL WEATHER PREDICTION 10TH CONFERENCE (NWP)

Parallel implementation, validation, and performance of MM5
Published: 1995 in Proceedings of the Sixth ECMWF Workshop on the Use of Parallel Processors in Meteorology. Coming of Age

The next version of the rapid update cycle - RUC II
Published: 1995 in Sixth Conference on Aviation Weather Systems

The Multi-Scale Infrastructure for Chemistry and Aerosols (MUSICA)
Authors (27): Pfister, Gabriele G.; Eastham, Sebastian D Brasseur, Guy P.
Published: Oct 2020 in Bulletin of the American Meteorological Society DOI: 10.1175/BAMS-D-19-0331.1

Evaluation of the Grell-Freitas Convective Scheme in the Hurricane Weather Research and Forecasting (HWRF) Model
Authors (9): Biswas, Mrinal K.; Zhang, Jun A. Grell, Georg
Published: Jun 2020 in Weather and Forecasting DOI: 10.1175/WAF-D-19-0124.1

BUILDING THE NEXT GENERATION OF CLIMATE MODELERS Scale-Aware
Physics Parameterization and the "Grey Zone" Challenge
Authors (29): Frassoni, Ariane; Castilho, Dayana Yamada, Barbara
Published: Nov 2018 in Bulletin of the American Meteorological Society DOI: 10.1175/BAMS-D-18-0145.1

Cloud Processing of Gases and Particles in Urban-Industrial Plumes: Comparison of Several Models
Published: 2010 in Air Pollution Modeling and its Application 

Improving dust simulations in WRF-Chem v4.1.3 coupled with the GOCART aerosol module
Authors (4): Ukhov, Alexander; Ahmadov, Ravan ... Stenchikov, Georgiy Published: Jan 2021 in Geoscientific Model Development
DOI: 10.5194/GMD-14-473-2021

Cascading Toward a Kilometer-Scale GCM: Impacts of a Scale-Aware Convection Parameterization in the Goddard Earth Observing System GCM
Authors (5): Freitas, Saulo R.; Putman, William M. Grell, Georg A.
Published: Sep 2020 in Geophysical Research Letters DOI: 10.1029/2020GL087682

REPRESENTATION OF BOUNDARY-LAYER, RADIATION, CLOUD AND AEROSOL PROCESSES IN MESOSCALE MODELS
Authors (9): Gryning, Sven-Erik; Batchvarova, E. Sokhi, Ranjeet S.
Published: 2018 in Mesoscale Modelling for Meteorological and Air Pollution Applications DOI: 10.2307/J.CTV80CDH5.11

INTEGRATION AND IMPLEMENTATION OF MODELS AND INTERFACES
Authors (12): Baklanov, Alexander; Schluenzen, K. Heinke Sokhi, Ranjeet S.
Published: 2018 in Mesoscale Modelling for Meteorological and Air Pollution Applications

Assimilation and Forecasting Fine Aerosols Over North America in Summer 2012
Authors (2): Pagowski, Mariusz; Grell, Georg A.
Published: 2014 in Air Pollution Modeling and its Application XXIII
DOI: 10.1007/978-3-319-04379-1 94

Toward a New Chemical Mechanism in WRF/Chem for Direct and Indirect Aerosol Effects: A Focus on the Carbonaceous Aerosols
Authors (6): Tuccella, Paolo; Grell, Georg A. Visconti, Guido
Published: 2014 in Nanomaterials: Risks and Benefits DOI: 10.1007/978-94-007-5577-2_25

A Case Study on the Impact of Aerosol-Radiation Feedback on Meteorology and Regional Pollutant Distributions
Authors (6): Forkel, R.; Werhahn, J. Suppan, P.
Published: 2014 in Nanomaterials: Risks and Benefits DOI: 10.1007/978-94-007-5577-2_60

The 20-km rapid update cycle - Overview and implications for aviation applications
Published: 2002 in 10TH CONFERENCE ON AVIATION, RANGE, AND AEROSPACE METEOROLOGY

On PIRCs models' consistency of dynamics with precipitation
Authors (26): Pan, Z; Arritt, RW Taylor, J
Published: 2002 in 13TH SYMPOSIUM ON GLOBAL CHANGE AND CLIMATE VARIATIONS

Improving dust simulations in WRF-Chem v4.1.3 coupled with the GOCART weather-chemistry forecasting model during the Texas AQS 2000 field experiment
Published: 2002 in Fourth Conference on Atmospheric Chemistry: Urban, Regional and Global Scale Impacts of
Air Pollutants

Results from the NOAA, FSL photochemical forecast model: Comparisons to aircraft and surface data during TEXAQS-2000
Published: 2002 in Fourth Conference on Atmospheric Chemistry: Urban, Regional and Global Scale Impacts of
Air Pollutants

Using the Firefly optimization method to weight an ensemble of rainfall forecasts from the Brazilian developments on the Regional Atmospheric Modeling System (BRAMS)
Authors (7): A. F. dos Santos; S. R. Freitas ... G. A. Grell
Published: Sep 2013 in Advances in Geosciences DOI: 10.5194/ADGEO-35-123-2013