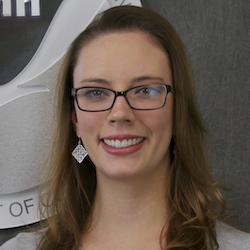 I started out in renewable energy, specifically solar energy resource modeling for a large clean  energy developer. I transitioned to verification of meteorological products upon arriving at GSL.  Aviation weather products are the primary focus of the quality assessments, but I've also done  work on boundary layer verification of the HRRR. In addition to my research and analyst duties,  I supervise the CIRA employees in the Forecast Impact and Quality Assessment Services  Branch. 
Research Interests
Aviation weather 
Applied meteorology, including renewable energy
Verification 
Impact-based decision support
Fire weather 
Education 
• M.S. in Atmospheric Science from the University of Wyoming (2016) • B.S. in Meteorology with minors in Mathematics and Business from the University of  Oklahoma (2014)


Experience
• Research Associate III – Scientific Analyst at CIRA/GSL 
• Associate Resource Modeling Analyst at WindLogics (now NextEra Analytics) • Graduate Research Assistant at the University of Wyoming 
• NOAA Ernest F. Hollings Intern 
• CIMMS Student Research Assistant 
• Vaisala Intern 
LinkedIn
Publications
Mueller, D., B. Geerts, Z. Wang, M. Deng, and C. Grasmick, 2017: Evolution and  Vertical Structure of an Undular Bore Observed on 20 June 2015 during PECAN. Mon.  Wea. Rev., 145, 3775 – 3794, doi:10.1175/MWR-D-16-0305.1.
Honors and Awards since 2015
GSL Team Member of the Month – December 2020
Invited Talks
AMS invited talk for 19th Conference on Aviation, Range, and Aerospace Meteorology:  "Relationships between Convection and Commercial Aircraft Turbulence Reports."