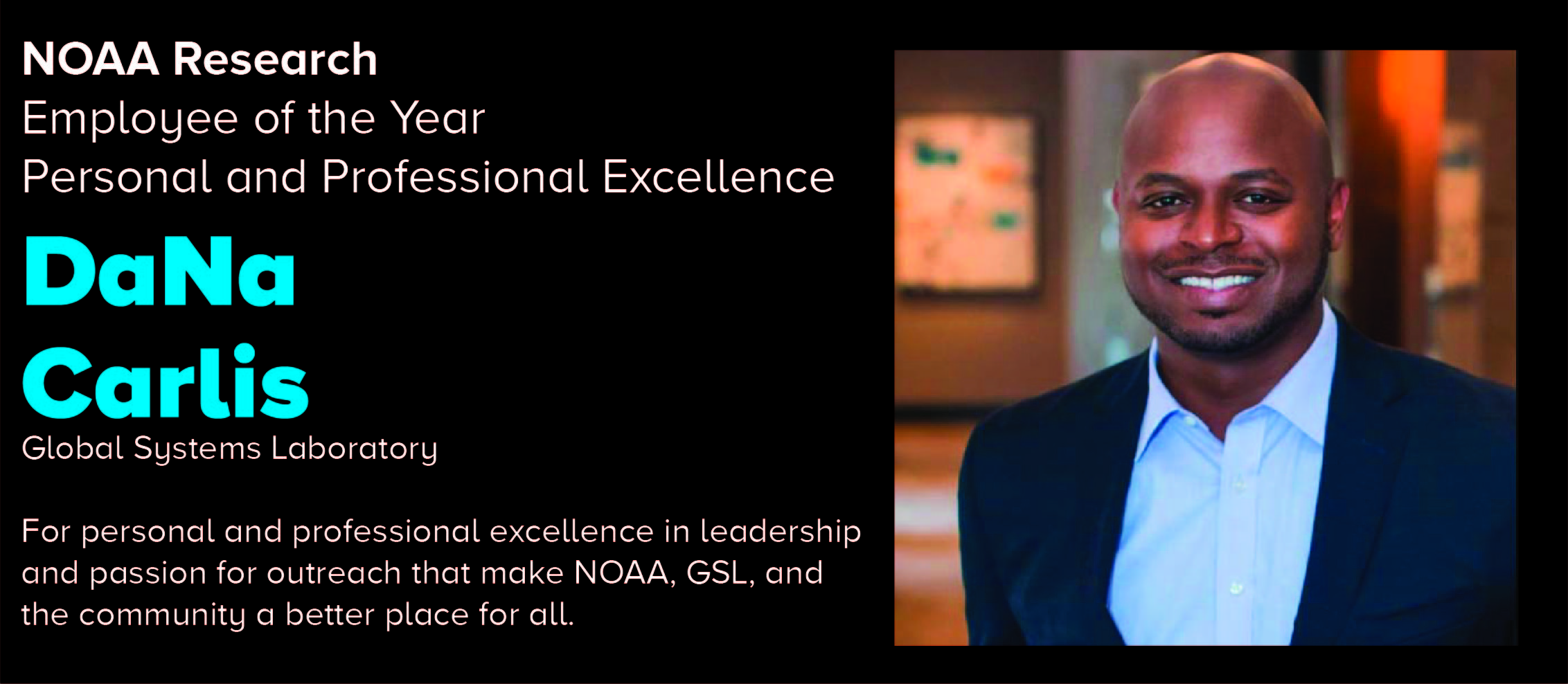 Dr. DaNa Carlis is the Deputy Director for NOAA's Global Systems Laboratory (GSL). Dr. Carlis' leadership in NOAA and passion for community outreach is the epitome of the NOAA mission of science, service, and stewardship. We are pleased to nominate him for NOAA Employee of the Year for his personal and professional excellence.
Dr. Carlis joined GSL in September 2020 while still the Program Manager of the Earth Prediction Innovation Center (EPIC). The goal of EPIC is to accelerate scientific research and modeling contributions through continuous and sustained community engagement to produce the most accurate and reliable operational modeling systems in the world. Dr. Carlis successfully led a team through an eight-month extensive and comprehensive evaluation project to award a $45M contract to the organization that would run EPIC for the weather community.
At the same time, Dr. Carlis quickly integrated himself into GSL and the GSL leadership team. Dr. Carlis' first significant GSL leadership role was to organize the 2020 GSL Virtual Retreat - where the goal was to lay the groundwork for a new GSL strategic plan. He successfully gathered 100 GSL participants and organized virtual breakout groups that produced a meaningful pathway forward. Following the retreat, he set up meetings with stakeholders to help guide the strategic plan, worked with the branch chiefs to form an outline, and sought more detailed input from the deputy chiefs. GSL's science review was in May 2021, and Dr. Carlis facilitated all of the discussions with the panel during the 4-day science review. He used the excellent review results to guide the development of the 2021-2031 GSL Strategic Plan that is now complete. He is currently working with all GSL staff to develop an implementation plan to ensure everyone has input and will take ownership of GSL's future.
A sense of community within and outside of GSL is valuable to Dr. Carlis. On the anniversary of the COVID "shutdown," he invited a world-renowned athlete to speak about resilience, which GSL staff found very inspirational. He also coordinated a GSL gathering for "We Are NOAA" week and posted a personal story for the GSL website. Dr. Carlis is a popular and influential speaker and facilitator. He is in high demand and on average gives more than 50 invited talks ranging from local to national events each quarter. In September 2021 alone, he gave keynote addresses at the Sea Ice Workshop, the NOAA Artificial Intelligence Workshop, "Diverse Leadership in Science" through UCLA, the AMS Summer Community Meeting, and the NOAA Fireside chat on "Transitions."
Dr. Carlis is passionate about diversity, education, outreach, and mentoring and takes every opportunity to connect with students and their institutions. In addition to informally mentoring three NOAA employees, Dr. Carlis serves on the EEO Advisory Committee, the Diversity and Professional Advancement Working Group, and the ESRL Diversity and Inclusion committee. He serves as a faculty member to the NOAA West Leadership Program and is on the board of trustees at the Early Childhood Academy in Washington, D.C. During the past year, he attended seven courses to earn the University of South Florida Diversity, Equity and Inclusion in the Workplace Certificate. Dr. Carlis organized and facilitated the Earth System Research Laboratories (ESRL) and NOAA Cooperative Science Centers four-part series that included over 80 ESRL and CSC scientists. He also successfully challenged GSL leadership to take advantage of the Lapenta, Pathways, NERTO, and other programs to host interns. This past summer GSL had the highest number of interns ever (22).
Dr. Carlis is tireless in his work to make NOAA and his community a better place for everyone.