Skip to main content
Community Spotlight: Reaching underserved communities with GSL's Science On a Sphere Explorer
March 01, 2022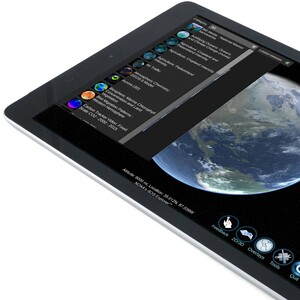 Welcome to Women History Month! Learning about the contributions and stories of female scientists is important to highlight not only during this month but during the year. So often, we allow the commitments of the day to supersede our want and desire to share GSL science with the broader community.

We at NOAA's Global Systems Laboratory (GSL) are passionate about our work. Our ability to take real-world problems and break them down into solutions that protect life and property is the key to our success. We take this great responsibility seriously because the problems that we currently face can be at times overwhelming. We don't shy away from these challenges but we find ways to work together to bring innovative solutions to solve the ills of society.
People love seeing data about our planet and interacting with it in a tangible way. One of the major advancements that GSL has shared with the world is NOAA's Science On a Sphere® technology. The museum version, a 6-foot globe, has wowed the public with 177 installations in 23 countries and 33 states. Science On a Sphere Explorer is an app for tablets and smartphones that puts that same data at your fingertips. These incredible outreach tools have reached millions of viewers worldwide. SOS has recently transitioned to NOAA's Office of Education where we hope this unique technology continues to make science more accessible to underserved communities and inspires young people to pursue a career in STEM.
We want to take a step back and look at the bigger picture of what's most important by sharing the following Q&A with GSL's Deputy Director, Dr. DaNa Carlis, and SEM (Science, Engineering and Math) Link Executive Director, Tokiwa Smith. Dr. Carlis came to NOAA through NOAA's Educational Partnership Program with Minority-Serving Institutions (EPP/MSI) back in 2002. He connected with Ms. Smith as a volunteer with SEM Link.
Q&A with GSL Deputy Director, DaNa Carlis:
How did you learn about NOAA?
I didn't know what NOAA was until I was about to graduate from Howard University in Washington, DC with a degree in Chemistry. It was 1999 and Howard had just been awarded a grant by NOAA's Office of Education to build a Graduate program in Atmospheric Sciences. The professors that received the grant began talking to faculty and students about this new program and that they were looking for students who wanted to get a graduate degree in the Atmospheric Sciences. Being a first-generation college student, I knew absolutely nothing about going to graduate school, but after meeting with the professors and them explaining to me that they would pay me a stipend and pay all of my tuition for the masters program, I signed up very quickly. It was during this program that I got introduced to NOAA by meeting scientists that would come to Howard and give seminars about their work. One scientist came and spoke about numerical weather prediction and showed beautiful visualizations of the earth and I immediately fell in love with NOAA and knew that I wanted to pursue a career at NOAA developing weather models.
How do you see GSL expanding its reach in STEM? Or what ideas do you have?
We all are so very blessed with many talents that enable us to pursue our passion for science on a daily basis. These blessings can not go to waste by keeping the things that we know and the excitement we have for solving the world's problems to ourselves. At GSL, I've worked closely with the Director, Jennifer Mahoney, to expand opportunities for students through the CIRES/NOAA GSL Internship Project where we have invested our own funds to provide research opportunities to students with diverse backgrounds. I couldn't be more excited about this program and the fruit that it will bear in the future. We've also talked to our staff a lot about mentoring the next generation of STEM professionals. We have a shared responsibility as productive contributors to society to share our knowledge with young people and help them identify and solve the world's future problems. These skillsets will continue to allow GSL to be innovators in the fields of visualization by conducting research that's on the leading edge of technology and building partnerships with partners to build new tools for communicating science to the world.
What have you done to celebrate Black History Month?
I've celebrated Black History Month by checking out some different documentaries and picking up a new book. I participated in an interview with AccuWeather talking about the need for diverse voices in leadership and my career path at NOAA. I think special emphasis months like Black History Month are important to the fabric of our country. We all come from different places across the globe no matter what ethnicity and these special emphasis days or months are there to serve as a reminder to continue to educate ourselves on the diverse stories of Americans.
How did you get involved with SEM Link?
A former academic advisor reached out to a bunch of his former students requesting volunteers to participate in education and outreach with an organization called SEM Link. Soon, a staff member for the Executive Director of SEM Link, Tokiwa Smith, reached out to me about participating in one of their online events focused on engaging students of color from underrepresented backgrounds in STEM. As an advocate of STEM education and outreach, I couldn't say yes fast enough. I'm a big believer in representation and being an African American scientist is important to share with all students and especially those students that are underrepresented in STEM.
Now let's hear from SEM Link Executive Director, Tokiwa Smith.
What inspired you to begin SEM Link?
I was inspired to begin to start SEM Link, while working at a middle school in Atlanta in the 2002-03 school year. Every day, I was around brilliant Black youth that weren't considering STEM careers because there were no adults in their lives that were STEM professionals. As a chemical engineer and an HBCU alumna, it broke my heart that these kids didn't see their potential to become a STEM professional. I wanted to do something about that as I knew that I could as a STEM professional, so I started to invite the STEM professionals in my network to come to the school for various activities and saw the impact that providing positive adult role models for youth in their academic skill development and expanding their horizons for the possibilities for their future. That is when I learned that engagement and exposure are critical to inspiring the next generation of STEM professionals. I spent the next 2 years developing the idea, learning about the structure of nonprofit organizations and running a business. In the 2005-2006 school year, after incorporating business and getting our nonprofit status in the summer of 2005, the work of SEM Link began at that same middle school where the idea for SEM Link came to me.
What about the NOAA mission is most impactful to you as a STEM educator and advocate?
I was introduced to the work of NOAA and its mission through my colleague, friend and SEM Link advisory board co-chair, Dr. LaToya Myles. Over the years as I learned more about the work of NOAA, I realized the huge impact that the agency has on our everyday lives. As a STEM Educator and Advocate that believes that STEM is all around us and that the best way to get youth interested in STEM is to teach them about the real-world applications of STEM. The mission and the work of NOAA is as real-world STEM as you can get climate, weather and the ocean, which impact our quality of life and the quality of our planet.
What was most impressive about the SOS Explorer?
What is impressive about the SOS Explorer is that it makes science accessible, especially with the app, by bringing science to the palm of your hands. Being able to see the work of scientists via the satellite images, computer models and ground observations allows kids to learn what is happening on earth and can pique their curiosity in earth and environmental sciences, which can lead them to pursuing a career in those fields.