Skip to main content
Evaluation and Decision Support Division
NOW known as the Weather Informatics and Decision Support (WIDS) Division (10/3/2022)
The Weather Informatics and Decision Support (WIDS) Division develops state-of-the-art environmental forecast, warning, decision support, and visualization capabilities to provide scientifically robust forecast tools, concepts, and analyses that support decision-making processes affected by the weather, water, and climate. We do this by coupling the latest advancements in machine learning, data visualization, social science research, and computer science/engineering with cutting edge atmospheric and environmental science to empower forecasters and decision makers with the best information they need. Our partners and customers are made up of numerous federal, state, and local government agencies who deal with operational weather and environmental issues; this includes the National Weather Service (NWS), the Federal and local Land Agencies who deal with wildfires, the Department of Defense, the Department of Transportation, the emergency management community, and international partners such as Australia and Taiwan. Through a partnership with NOAA's Office of Education and the Science on a Sphere (SOS) Team, we help NOAA communicate its science and develop new ways of interacting with our data. In addition, the WIDS Division hosts the NOAA Fire Weather Testbed, which leverages social science and verification expertise to enable research to operations (R2O) feedback between the creators of fire weather tools and operational decision makers.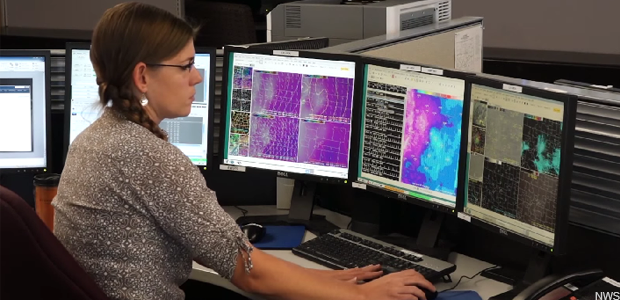 EDS expertise:
The NWS's Advanced Weather Interactive Processing System (AWIPS)
Data management and processing capabilities to enhance situational awareness and allow forecasters to work more efficiently
User-focused verification techniques and tools that generate and display statistical information in near real-time, to support decision making in aviation and power transmission
NWS tools that forecast weather hazards, and foster collaboration among stakeholders
Web tools for visualization of environmental data to support forecast, warning, and decision support activities
Support services for weather system development and compliance with security requirements
Hazard Services are advanced tools, currently in development in AWIPS, for issuing timely and accurate hazard information.