Skip to main content
Earth Prediction Advancement Division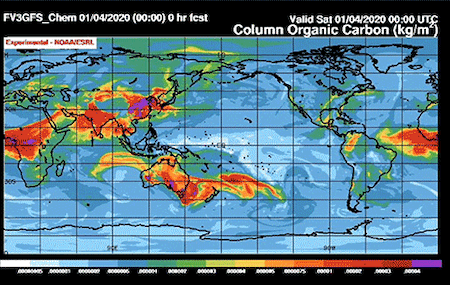 The Earth Prediction Advancement Division works to improve and apply numerical weather prediction models in scales ranging from local to global and from a few hours to seasonal. We develop of state-of-the-art atmospheric physical parameterizations, improve the representation of processes that impact atmospheric composition and their interaction with physical processes, and include all earth domains (atmosphere, land, biosphere, ocean, and sea ice) in our modeling systems. Applications range from forecast impacts of wildfires on air quality and weather conditions to prediction of increased likelihood of excessive precipitation in the lower Mississippi River basin during week 3. We use common infrastructures to collaborate with the broad scientific community with the goal of augmenting scientific understanding and improving NOAA predictions.
EPAD has expertise in:

Local, regional, and global weather prediction models
Suites of mathematical formulas that represent physical processes in the atmosphere (physical parameterizations) for both regional and global models
Atmospheric composition modeling
Coupled modeling including atmosphere, land, ocean, sea ice and aerosols
Engagement with the broader scientific community in weather prediction models
Develop and support of community software infrastructure
Division Chief: Georg Grell
Deputy Division Chief: Ligia Bernardet
---


Highlighted Work Areas
Advancements in Atmospheric Physics - The model physics development at GSL is intended to collectively represent a comprehensive set of physical processes essential for driving the circulations at all scales in the atmospheric-land-ocean system. This effort includes the state-of-the-science moist-turbulent boundary layer and convection schemes, which include aerosol and cloud physics, and are intricately coupled to the microphysics and radiation schemes to provide an accurate representation of the atmosphere.
Model infrastructure, community support, and assessment - Broad participation is critical to accelerate the pace of improvements in numerical weather prediction. GSL supports community involvement by developing modeling infrastructure, providing support to users and developers of the UFS, WRF-Chem, and Hurricane WRF models, assessing contributed innovations, and organizing events to bring together the research and operational communities.
Air Quality and Atmospheric Composition - GSL leads the development of the coupled meteorology-chemistry model WRF-Chem in collaboration with many national and international scientists. The model includes numerous chemistry schemes to simulate gas, aerosol, aqueous and heterogeneous chemistry processes, and chemistry-meteorology interactions.

GSL runs a module of the High-Resolution Rapid Refresh model (based on WRF-Chem) that represents the effects of smoke from wildland fires in air quality and weather.

https://rapidrefresh.noaa.gov/hrrr/HRRRsmoke/

GSL is also developing a coupled global aerosol forecasting model - FV3-Chem: https://fim.noaa.gov/FV3chem/

Subseasonal-to-Seasonal Prediction - Our research in this area addresses issues related to sources of predictability, forecast system component closures, and model physics development. We work closely with the coupled Unified Forecast System to improve this model's forecast skill by identifying sources of model errors, reducing model biases and better representing longer-lived phenomena like the Madden-Julian Oscillation and its teleconnections.The coupled FIM-iHYCOM model is part of a multi-institutional ensemble-generating real time subseasonal (weeks 3-4) prediction system, see results at https://fim.noaa.gov/FIMano/.
---
Highlighted Models and Applications

Unified Forecast System (UFS) - The Unified Forecast System (UFS) is a community-based, coupled, comprehensive Earth modeling system. The UFS numerical applications span local to global domains and predictive time scales from sub-hourly analyses to seasonal predictions. It is designed to support the Weather Enterprise and to be the source system for NOAA's operational numerical weather prediction applications.

Medium-Range Weather Application -This application predicts atmospheric behavior out to about two weeks. The Global Forecast System (GFS) is an operational implementation of this application. Information on public releases can be found here.
Short-Range Weather Application - This application predicts atmospheric behavior from less than an hour to several days. It is being actively developed as the next-generation replacement for the RAP, HRRR, and SREF operational modeling systems.
Subseasonal-to-Seasonal (S2S) Application -- Here, the UFS will predict atmospheric, land, ocean and sea ice fluctuations on time scales from about two weeks to multiple seasons, and will provide information regarding the risk of weather events impacting society and the natural environment, such as floods, droughts, heat and cold waves. By understanding the sources of predictability on those time scales and reducing model biases, this effort is expected to provide a full range of possible outcomes paired with meaningful probabilities.

Air Quality Applications -- This application predicts atmospheric composition out to several days. The air quality applications cover both regional and global scales to assess and forecast the impact of anthropogenic, fire, dust and other emission sources on atmospheric composition and weather.
Hurricane Application -- This application predicts tropical cyclone track, intensity, and related effects out to about one week. It is open source code being actively developed as the next-generation replacement for NOAA's operational hurricane models.

FIM- -- The FIM atmospheric model that was developed at EPAD has been phased out for stand-alone applications in medium-range numerical weather prediction. It is running real time in the coupled mode (see results at https://fim.noaa.gov/FIMano/.)
WRF-Chem - is a-state-of-the-art fully coupled meteorology-chemistry model to simulate air quality, atmospheric composition and chemistry-meteorology interactions ranging from local to continental scales. The full description of the model can be found in: https://ruc.noaa.gov/wrf/wrf-chem/
Hurricane Weather Research and Forecast (HWRF) model -- HWRF is a coupled atmosphere-ocean-wave model used for tropical cyclone research and NOAA operations. It provides realtime guidance to the National Hurricane Center. Community releases can be found here.