Skip to main content
NWS Forecasters Share Comments on Hazard Services Workflow
March 18, 2020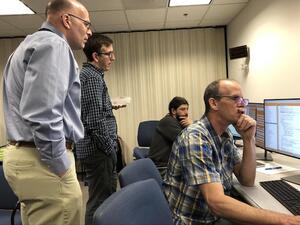 NWS forecasters gave a final evaluation to two Hazard Services project milestones during a workshop organized and held by GSD in February 2020. First, the NWS is working to consolidate the number of flooding products they issue and simplify flooding information that will be communicated to the public. Forecasters evaluated these consolidated hydrology hazard simplification (HazSimp) concepts using the Hazard Services software. Second, participants also examined how the next generation of winter weather watches, warnings, and advisories (including winter storm, blizzard, ice storm, freezing rain, and more) are created and issued in Hazard Services.
Delivering these new Hazard Services components aligns with GSD's mission to make forecasts better, particularly for high-impact events like winter storms that can cause billions of dollars in damage in only a few days. Overall, the participant response was overwhelmingly positive and the green light has been given to implement these deliverables into the next version of Hazard Services delivered to the NWS in mid-March
Here are some of the comments from the forecasters:
Quite impressed. Nice leap forward. Need to make the code more efficient. There are many things that can be customized to cut down on the time needed. Everything is going great.

Re: HazSimp Good impressions; a few fixes needed - eg. dam breaks. There is a workaround in the IOC version for rainfall rate. This was a very large, multi-part (three-part), Winter Weather evaluation

Phenomenally well expanded. Phenomenal job addressing what was brought up in October. Workflow makes sense. No reservations about moving forward.

It worked well... really good. Excellent test case and instructions.
I'm also really impressed. There are still a few things that need to be worked out, but it should be better for streamlining the way we deal with hazards.

Good collaboration between GSD and WFOBOU. Vada did a great job translating the Nov snowstorm into Hazard Services. Two showstoppers need to be addressed for check-in.

Well done.

For more information contact: Susan Cobb 303-497-5093