Skip to main content
National Science Foundation Awards Education Research Using SOS Explorer® Mobile
June 28, 2021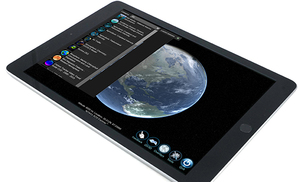 Beginning in July 2021, Cooperative Institute for Research in Environmental Sciences (CIRES) at the University of Colorado Boulder within in the Global Systems Laboratory (GSL) will begin a four-year project "Building Insights through Observation: Researching Arts-Based Methods for Teaching and Learning with Data" funded by the National Science Foundation's Discovery Research PreK-12 program. The project will conduct foundational research to understand the ways in which arts-based instructional methods and geospatial data visualization can be successfully applied by science teachers.
Led by the Nurture Nature Center in Easton, PA the project will also include the Education Development Center, and J. Sickler Consulting, LLC (evaluator) on the project. NNC Science Director, Dr. Kathryn Semmens, will serve as Principal Investigator, along with Co-Principal Investigators, Keri Maxfield (Art Director, NNC), Amy Busy (Education Development Center), Hilary Peddicord (University of Colorado Boulder/CIRES/GSL), and Jessica Sickler (J. Sickler Consulting, LLC). Rachel Hogan Carr (Executive Director, NNC) and Randy Kochevar (Education Development Center) will also support the project.
The team chose NOAA's SOS Explorer® Mobile as the tool for delivering scientific data visualizations to test the understanding of both the teachers and the students. NOAA's Science On a Sphere® has been used for decades as an informal teaching tool in science museums around the world. In 2019 the SOS team at the Global Systems Laboratory expanded Science On a Sphere® to include a free mobile app on smartphones and tablets.
This project will focus on visual thinking skills that apply in both science and art: describing, wondering, recognizing uncertainty, and interpreting with evidence. They will work with a team of advisors and two cohorts of middle school teachers to develop a teacher professional development program and a toolbox for educators including a lesson repository.
Arts-based pedagogies for observing, analyzing, and critiquing visual features of data visualizations will help students build an understanding of what the data reveal, improving data literacy in an increasingly data saturated world. Art museums routinely practice an informal teaching approach that encourages slow and deliberate observation to establish personal understanding using open-ended lines of inquiry.
The project will use a design-based research framework to develop data literacy teaching approaches in partnership with the middle school teachers through annual in-person workshops and curriculum development and testing. The research process will include data about teachers' development and students' learning about data literacy.