Skip to main content
Major milestone: UFS Short-Range Weather Application 2.0.0 released on June 23 2022
June 29, 2022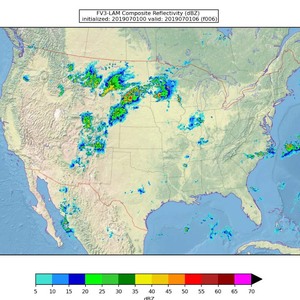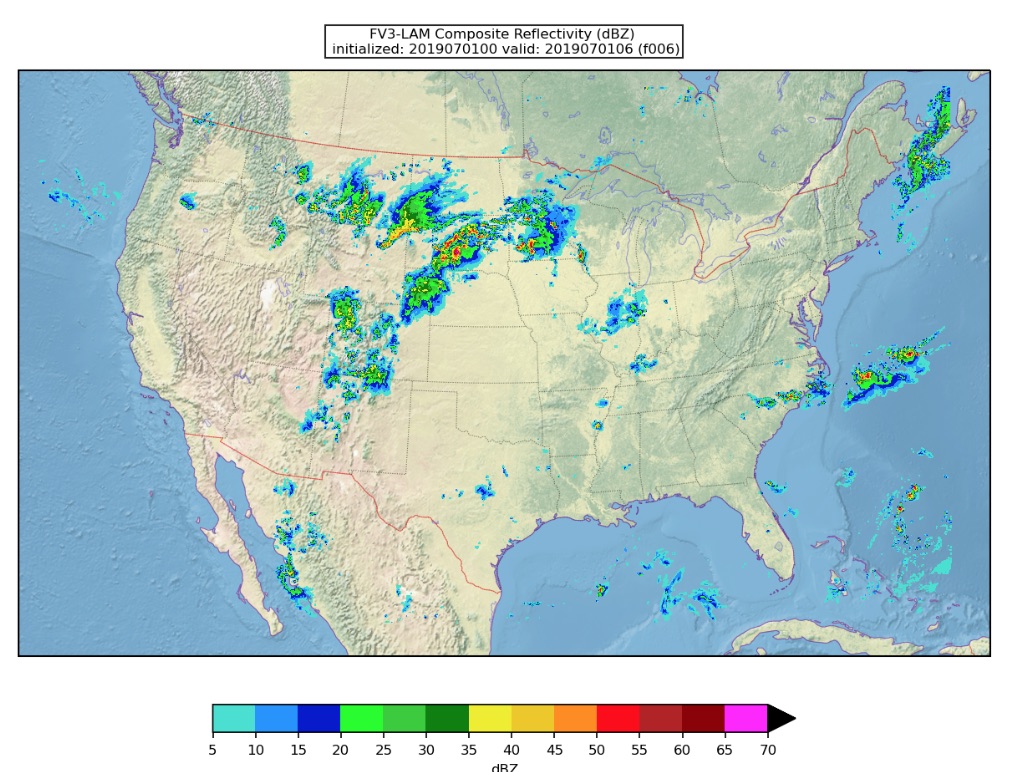 Sample plot from the release version of the SRW application from test cases -- this example is from a high-resolution (3km) forecast over the CONUS on July 1, 2019 and shows how the updraft helicity and reflectivity coincide.
Code sharing enables innovations in numerical weather prediction science
The Global Systems Laboratory (GSL) was a co-lead on the release of the Unified Forecast System (UFS) Short-Range Weather (SRW) application v2.0.0. The Unified Forecast System (UFS) is a community-based, comprehensive Earth modeling system with shared science components and software infrastructure. It is designed to be the source system for NOAA's operational numerical weather prediction applications while enabling research, development, and contribution opportunities for the broader weather enterprise.
This newly updated weather application which uses the atmosphere and land components of the UFS is designed for short-range regional forecasts located anywhere on the globe. This timeframe is important to help forecasters issue life-saving weather and water forecasts in the U.S. during extreme events like blizzards, tornadoes, and hurricanes. The UFS SRW App can also be run on Amazon Web Services where the modeling community can run the App and modify the code to test their own innovations which may lead to advances in forecast skill. This release is part of the ongoing effort to transition to an open community development paradigm and accelerate the advancement of environmental prediction models. The application is now available through GitHub to the public.
The GSL, Cooperative Institute for Research in Environmental Sciences (CIRES), and Cooperative Institute for Research in the Atmosphere (CIRA) teams worked on many parts of the UFS SRW App v2.0.0 technical release including implementing four different physics suites, the addition of stochastic physics and verification options, comprehensive documentation, code management, and user support.
The UFS SRW application also serves as the foundation for NOAA's future convection-allowing ensemble forecast system, known as the Rapid Refresh Forecast System, which builds on the existing High-Resolution Rapid Refresh model known as the HRRR. Through participation in the UFS, expert members of the broader weather community are contributing to the enhancement and development of the RRFS.
NOAA Research partners in this release include the collaborative Developmental Testbed Center, NOAA's Environmental Modeling Center, the National Severe Storms Laboratory, Great Lakes Environmental Laboratory, and Geophysical Fluid Dynamics Laboratory. GSL, CIRA, and CIRES participants include Jeff Beck, Gerard Ketefian, Linlin Pan, and Curtis Alexander.