Skip to main content
GSD hosts forecasters to evaluate new Hazard Services products
March 18, 2020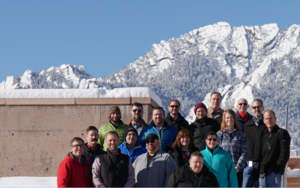 Global Systems Division (GSD) researchers will host more than a dozen participants for an evaluation of the Hazard Services system this week (Feb 11-13) in the GSD Forecast Center. Hazard Services will modernize how National Weather Service (NWS) and National Centers for Environmental Prediction (NCEP) create forecasts, watches, and warnings. The system provides a pathway to operations for promising science and technology to be incorporated more rapidly into the warning decision-making process. It is also the vehicle for bringing clear, direct language improvements into the watch/warning/advisory process to ensure effective information is disseminated to the public.
The type of evaluation being performed is a "System Functional Assessment Test" (SFAT), which brings a Hazard Services workflow into a live system with real data to evaluate its performance in an operational-like environment. Researchers and developers want to know: Does the workflow interface well with the other software components? Are the hazardous weather products transmitted and stored successfully
Two workflows that were part of the SFAT in October will be examined again for operational readiness. Forecasters will evaluate two hydrology hazard simplification deliverables: (1) a consolidated number of flooding products issued by the NWS and (2) simplified flooding information that will be communicated to the public. Participants will also examine how the next generation of winter weather watches, warnings, and advisories (including winter storm, blizzard, ice storm, freezing rain, and more) are created and issued in Hazard Services. Improving these workflows aligns with GSD's mission to make forecasts better, particularly for high-impact events like winter storms that can cause billions of dollars in damage in only a few days.
For more information contact: Susan Cobb 303-497-5093