Skip to main content
GSL hands off a major MADIS release for 30 Sept 2022 deployment
March 07, 2022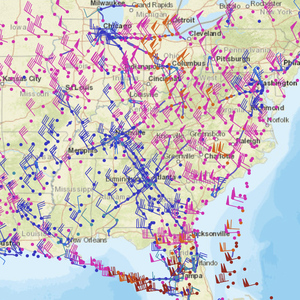 GSL's Meteorological Assimilation and Data Ingest System (MADIS) team handed off MADIS version 4.0 code to NCEP Central Operations on January 29, 2022, with operational deployment scheduled for 30 September 2022. Major additions include running on the latest versions of Operating System (OS) and Commercial Off The Shelf (COTS) software, the ability to add and fix mesonet providers weekly, and an aircraft display that provides the functionality and should replace the use of the GSL https://amdar.noaa.gov/java aircraft display.

MADIS ingests weather data from both NOAA and non-NOAA providers, implements quality control checks, and provides an interface for the greater environmental community to access a wide array of observations from hundreds of sources in a uniform format. MADIS ingests observations from over 2.3 million locations a day, providing more than 68 million quality-controlled observations to users daily, which is just over 2.8 million observations per hour. MADIS was first transitioned from research to NWS operations in January 2015, at "madis.noaa.gov". The NWS and the greater meteorological community rely on high-quality observations to better understand the current state of the atmosphere, improve Numerical Weather Prediction (NWP), and to aid in forecasting hazardous weather events and in the verification of the NWP forecast results.
MADIS provides observation data that improves forecasts that help protect life and property. MADIS data is also used by other government agencies such as the Department of Defense (DOD), the Department of Transportation (DOT), other research organizations, the private sector, and the general public. MADIS V4.0 provides the ability to add new providers to NWS operations in weeks instead of years. MADIS also continues to improve how information is delivered to users.
NWS and OAR have partnered to keep the MADIS system relevant through a continuous improvement process. Because of this partnership, MADIS is the pathway for eliminating stove pipe observational systems developed by other organizations. MADIS' centralized data acquisition reduces the cost to NWS operations, which would otherwise be required to individually, and often redundantly, collect observations locally. By assimilating private sector as well as government purchased observations, MADIS saves NOAA the costs of adding new observing systems as well as maintaining them. NWS modeling and operational forecasters benefit through higher quality, frequency, and spatial gap-filling data.