Skip to main content
Threats-In-Motion "Shakedown" testing in preparation for larger eval in the fall
July 16, 2021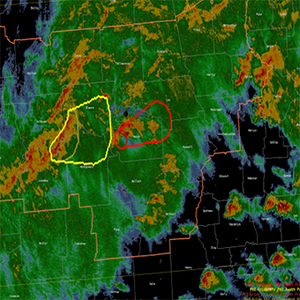 GSL researchers have been working with NWS forecasters on shakedown tests of "Threats-In-Motion" (TIM), a warning dissemination approach that would enable NWS to enhance severe thunderstorm and tornado warnings. TIM will be tested this Summer in the NOAA Hazardous Weather Testbed. Testing will be done by 6 NWS forecasters (8, counting shakedown week participants) and a team of developers from GSL, NSSL, the NWS's Warning Decision Training Division (WDTD), and social scientists from the University of Akron.
TIM is a shift from the current static polygon system to a warning polygon that is allowed to keep the warned area out ahead of an approaching threat, such as a tornado. The warnings are then automatically cleared from locations where the threat has passed. TIM also provides more meaningful information about the anticipated time of arrival and departure of the threat. This new capability is an advancement toward a more continuous flow of information in warnings, outlined by the Forecasting A Continuum of Environmental Threats (FACETs) program.
This innovative approach is under consideration for transition to NWS operations within the Hazard Services warning generation application. While this version of TIM is seen as a long-term solution, another project scheduled for this fall will focus on developing a prototype of a short-term ("Tiny TIM") solution by extending existing WarnGen polygons. This will be a first step in moving in the direction of adopting the full TIM concept. The interim methodology would be used for special instances, such as for long tornado tracks.
TIM is the result of close collaborations among GSL, CIRA, CIRES, NSSL, and the NWS's MDL and WDTD.