Regional Models
The Rapid Refresh (RAP) is a 13km continental-scale NOAA hourly-updated assimilation/modeling system operational at NOAA's National Centers for Environmental Prediction (NCEP). RAP covers North America and is comprised primarily of a numerical weather prediction (NWP) model and an analysis/assimilation system to initialize that model. RAP is complemented by the higher-resolution 3km High-Resolution Rapid Refresh (HRRR) model, which is also updated hourly and covers a smaller geographic domain. RAP was implemented into NCEP operations in December 2020.

The HRRR is a NOAA real-time 3km resolution, hourly updated, cloud-resolving, convection-allowing atmospheric model, initialized by 3km grids with 3km radar data assimilation. Radar data is assimilated in the HRRR every 15 minutes over a 1-hour period adding further detail to that provided by the hourly data assimilation from the 13km radar-enhanced Rapid Refresh. HRRR was implemented into NCEP operations in December 2020.
---
GSL's experimental Rapid Refresh - Smoke (RAP-Smoke) and High-Resolution Rapid Refresh-Smoke (HRRR-Smoke) models simulate the emissions and transport of smoke from wildfires and the impact of smoke on the weather. RAP-Smoke and HRRR-Smoke predict the 3D movement of fire-emitted fine particulate matter (PM 2.5 or fire smoke). These are the particles that generally pass through the nose and throat to enter the lungs.

---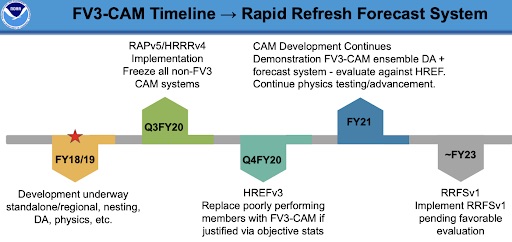 Rapid Refresh Forecast System (RRFS)
ESRL/GSL, NSSL, NCEP/EMC, and partners are working together on a project to design a single-model, convection-allowing, ensemble-based data assimilation, and forecasting system, called the Rapid Refresh Forecast System (RRFS). This project aims to develop advanced high-resolution data-assimilation techniques and ensemble-forecasting methods while supporting the unification and simplification of the NCEP modeling suite around the FV3 model.

Other possible components of the RRFS are being tested now in the experimental, WRF-based High-Resolution Rapid Refresh Ensemble (HRRRE). Experimental runs of the HRRRE at GSL are focused particularly on:
1. Improving 0-12 h high-resolution forecasts through ensemble-based, multi-scale data assimilation and
2. Producing spread in 0-36 h ensemble forecasts through initial-condition perturbations, boundary-condition perturbations, and stochastic physics. The experimental HRRRE has two components -- a 36-member ensemble analysis system (HRRR Data-Assimilation System, or "HRRRDAS") and a 9-member ensemble forecast system. The HRRRDAS provides initial conditions (ensemble mean) and a background ensemble for data assimilation in HRRRv4, and was implemented into operations in December 2020. The HRRRDAS and HRRRE also provide initial and boundary conditions for a prototype Warn-on-Forecast System, which is an on-demand, regional, ensemble system that provides sub-hourly probabilistic forecast guidance for convective storms at short lead times.