GSL's John Brown: American Meteorological Society's 2020 Charles L. Mitchell Award
Jul 28, 2020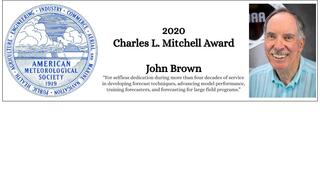 GSL's John Brown has been honored with the American Meteorological Society's 2020 Charles L. Mitchell Award "For selfless dedication during more than four decades of service in developing forecast techniques, advancing model performance, training forecasters, and forecasting for large field programs. The Charles L. Mitchell Award is given in recognition of long-term service by individuals engaged in weather forecasting activities and the award is seldom given to researchers.
Dr. Brown has had an extraordinary, multi-faceted four-decade career of contributions to the NOAA weather community that has served the nation. His exceptional command of meteorology at convective, meso-, and synoptic scales, and mastery of modeling techniques and physics concepts have translated into valuable contributions to NOAA's National Centers for Environmental Prediction physics parameterization development for more than 20 years. He has been a lead scientist for the Weather Research and Forecasting model Physics Working Group since 2002. He continues to be a co-developer for land-surface models and planetary boundary layer schemes and is the primary evaluator for cloud physics parameterizations. Dr. Brown's work guided the development of the regional Rapid Update Cycle, Rapid Refresh, and High-Resolution Rapid Refresh (HRRR) models. The HRRR is the only hourly-updating high-resolution, rapidly-updating. high-impact weather model in the world. Dr. Brown also contributed to global models with physics development and evaluation including the Global Forecast System (GFS) and Finite Volume Cubed Sphere (FV3).
Dr. Brown has been a student of weather since childhood, and his natural curiosity has made him an esteemed lifelong learner, practitioner, and teacher. What makes him special, according to his colleagues, is his ability to link theoretical meteorology with real-world weather and share that knowledge with people of all abilities. From friendly debate with peers and extensive peer-reviewed publications to COMET forecaster training and educating the readers of WeatherWise magazine through the "Weather Queries" column, Dr. Brown's commitment to advancing the science of weather forecasting is tireless. He has faithfully documented weather observations as the lead Cooperative Observer on the NOAA Boulder campus for 30 years.
Dr. Brown has been a quiet, guiding force as a specialist in weather interpretation. He has developed and tested original forecast techniques and applications for difficult weather problems including cold-air damming, lee-cyclone development east of the Rockies, nocturnal convective storm initiation over the High Plains, and the genesis of Atlantic and Eastern Pacific tropical cyclones. Dr. Brown has also been an annual participant in the NOAA Hazardous Weather Testbed Spring Forecast Experiment since its inception in 2002. Many NOAA field projects have relied on his forecasting expertise for successful deployments from 1979-2016. He was also a lead author for an AMS monograph chapter on 100 years of progress in forecasting and NWP applications for forecasting.
Dr. Brown's work protects the scientific integrity valued by NOAA. His lifelong endeavor to increase understanding of hazardous atmospheric phenomena and predicting the atmosphere and to share his expertise through mentoring and modeling is a gift to NOAA and the weather forecasting community.