GSL's Curtis Alexander awarded 2020 OAR Employee of the Year for Leadership
Nov 04, 2020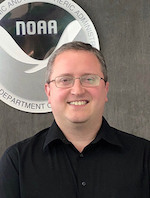 GSL's Curtis Alexander was awarded the 2020 OAR Employee of the Year for Leadership. The citation reads: "For excellence and leadership to develop and implement real-time hazardous weather prediction that improves the safety of U.S. citizens."
Dr. Curtis Alexander is a Supervisory Meteorologist at the NOAA Global Systems Laboratory (GSL) and Chief of the Assimilation, Verification, and Innovation Division at GSL. Dr. Alexander's excellence and leadership in scientific discovery, numerical weather prediction, world-class computational design and management, and communication skills have accelerated the development and implementation of real-time weather prediction for thunderstorms and other hazardous weather phenomena.
This work improves the safety and quality of life for United States citizens and advances the NOAA mission of understanding and predicting the weather. NOAA OAR's reputation as a 'get it done' line office has been improved yet further during the last 1-2 years by Dr. Alexander's accomplishments in prediction research and transitions to operations in the NWS.
Dr. Curtis Alexander is the key developer and leader of the research team that created NOAA's High-Resolution Rapid Refresh (HRRR) weather model (and its parent, the 13km Rapid Refresh model). The HRRR is the only hourly-updating, radar-initialized, storm-resolving weather forecast model running over the U.S., and to the best of our knowledge, the only one in the world. The innovative HRRR has demonstrated improved forecasts and warnings for high-impact, severe weather events across the U.S. since it was transitioned into NOAA National Weather Service offices in 2014. Under his leadership, culminating development during 2017-2019, new versions of the HRRR model and data assimilation system (HRRRv4) and RAP model (RAPv5) were approved to proceed with full operational implementation on December 20, 2019, and have been transferred to the NWS National Centers for Environmental Prediction (NCEP).
The HRRR is a complex storm-scale numerical weather prediction forecast system. Dr. Alexander is the only person that understands each component of the system and leads end-to-end development from data processing and analysis to model forecasting and product implementation. Dr. Alexander accelerated the development of the HRRR and provided new packages of extensive model and assimilation systems enhancements every two years. Dr. Alexander's outstanding computer optimization skills were integral to this success, reducing the computer time required to provide forecasts resulting in ~35% runtime savings.
These improvements have made the HRRR a valuable tool broadly used by NWS and private-sector forecasters, the aviation and renewable energy industry, and the public. Dr. Alexander has also been on the front lines to educate the weather community about the HRRR and has led region- and mission-specific training for all National Centers for Environmental Prediction (NCEP) offices.
Dr. Alexander has developed a deep, trusting partnership with staff at NWS/NCEP/EMC that has made the transitions of the HRRR to operations successful. There are huge differences between the non-operational experimental mode and the strict requirements of NCEP Central Operations (NCO). Dr. Alexander guided all transitions of the experimental HRRR models run continuously at GSL into the operational forecast system at NCEP. Dr. Alexander rewrote all the HRRR scripts for the NCO environments and enhanced each component of the HRRR to meet strict standards. He led extensive tests and evaluations requiring massive computer resources and human power to build and run the systems and analyze results. He also worked with
High-Performance Computing administrators to ensure there were enough compute resources to finish the tests and managed the HRRR development group to use computer power efficiently. Dr. Alexander's tireless communication and diplomacy have made the HRRR transition to operations successful.
Dr. Alexander's development of the HRRR, particularly in his improved use of observations and advanced data assimilation techniques, has made it widely used by academic, government, and industry partners. The new HRRRv4 now in final testing at NCEP uses a breakthrough 3-km ensemble data assimilation allowing much-improved forecasts of ongoing severe weather systems, especially during the first 6 hours. There are 246 American Meteorological Society publications with references to the HRRR model, and Dr. Alexander has 17 refereed publications and 79 non-refereed publications and conference publications.
Dr. Alexander began co-leading the Unified Forecast System (UFS) Convection-Allowing-Model (CAM) Working Group in 2017. This group seeks to replace NCEP's multiple mesoscale and convection-allowing-scale modeling systems with new systems based on the FV3 dynamical core, including the Rapid Refresh Forecast System. Among other initiatives, Dr. Alexander led the effort to reach a consensus on a set of verification metrics for the UFS CAM with aplomb. As a result, Dr. Alexander was invited to co-lead the UFS CAM Application Team and its success is attributable to him.
In 2018, Dr. Alexander was honored with the American Meteorological Society's Weather Analysis and Forecasting Committee Early Career Award for his significant contributions to the weather forecasting enterprise and his future as a science leader in the community. In 2020, he was honored with the NOAA Silver Sherman Award for "leadership and exceptional cross Line Office collaboration in development, improvement, and operational implementation of NOAA convection-allowing weather models and nowcasting capabilities."
Dr. Alexander is a uniquely gifted scientist and researcher who has distinguished himself through his academic and professional career. This, combined with his respectful and collaborative leadership style that brings out the best in his staff and colleagues, has equipped him with the rare ability to accomplish truly ground-breaking scientific research and successfully transfer the results of that research into operational weather prediction models. His work has revolutionized the way our citizens plan for and ameliorate the adverse impacts of hazardous weather, a key component of the Weather-Ready Nation goal of NOAA, and he is invaluable to GSL, OAR, and NOAA.GSL's Curtis Alexander awarded 2020 OAR Employee of the Year for Leadership