GSL Hosts Hazard Services Test
Mar 12, 2021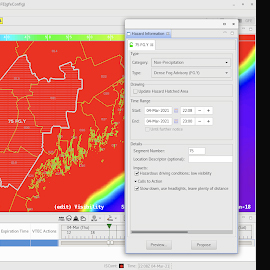 GSL researchers virtually hosted more than a dozen participants for a Functional Forecaster Assessment Test (FFAT) of new Hazard Services capabilities in late February. They used the Amazon Web Services cloud platform to evaluate the workflow to issue marine and non-precipitation weather products, along with hydrology and winter weather products.
Here are some of the comments from participants:
"I'm really blown away by the progress in the past 6 months or so..." - Jonathan Lamb, Forecaster at WFO Charleston, South Carolina
"I was really worried about these workflows for long-fused products, (winter, etc…), but ever since GSL took this over and worked closely with all the forecasters, it's really been night and day. I'm very happy with the progress."
-Shannon White Forecast Decision Training Division
"These are some of the best instructions I've ever seen for training or testing..." - Tom Pepe, Forecaster at WFO Great Falls, Montana
"I've never issued a marine product in my life, but because the workflow is so simple and similar to other products, it was no problem to do that." - Jennifer Shoemake, Forecaster at WFO Albuquerque, New Mexico
"This was, by far, the most positive feedback I've ever heard after a FAT." - Mark Armstrong, NWS Hazard Services Program Manager with NWS Office of Central Processing
A "Functional Forecaster Assessment Test" (FFAT), exposes forecasters to a new hazard workflow in an isolated system so they can focus on evaluating how Hazard Services creates watches, warnings, and advisories and how the public would see these hazardous weather products. This FFAT evaluated marine and non-precipitating weather products. Watches and warnings for marine hazards include gales, heavy freezing spray, small craft advisories, dense fog, hazardous seas, and hurricane-force winds. Watches and warnings for non-precipitation hazards cover extreme cold, excessive heat, dense fog and smoke, high winds, and even air stagnation
GSL is developing Hazard Services to modernize how the National Weather Service (NWS) creates watches, warnings, and advisories. The system provides a pathway to operations and enables promising science and technology to be more rapidly incorporated into the warning decision-making process. It is also the vehicle for clear, direct language improvements to ensure more effective information is disseminated to the public.
Congratulations to the Hazard Services Team!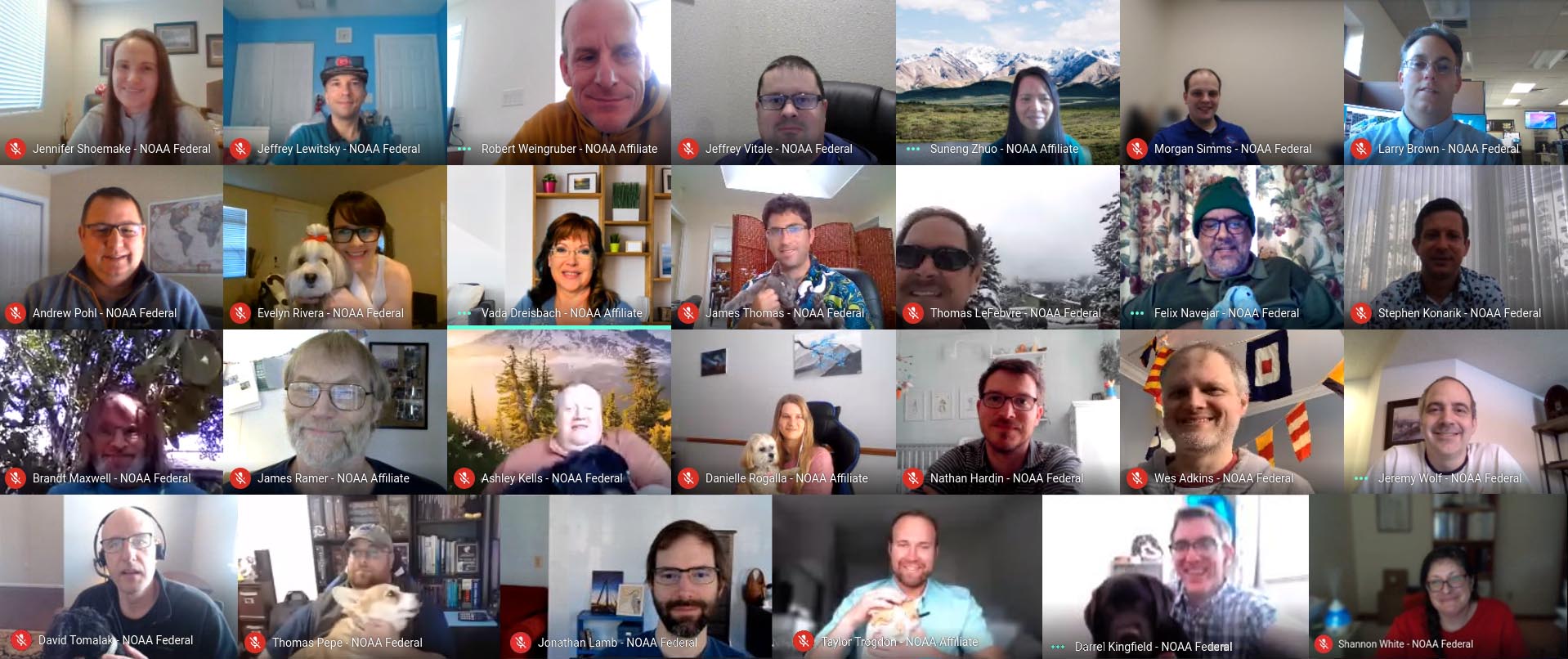 Darrel Kingfield
Vada Dreisbach
Suneng Zhuo
Nate Hardin
Tom LeFebvre
Rob Weingruber
Dani Rogalla
Jim Ramer
Chris Golden
Taylor Trogdon
Tracy Hansen