Skip to main content
Outcomes from the Hazard Services Summer 2021 Functional Assessment Test
September 13, 2021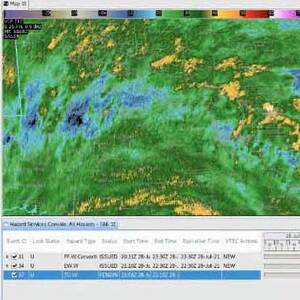 GSL researchers hosted their fourth virtual Functional Assessment Test (FAT), evaluating next-generation Hazard Services capabilities. Hazard Services will modernize how the National Weather Service's WFOs and National Centers create forecasts, watches, and warnings and consolidate these efforts into a single highly customizable software system.
Over 25,000 short-fuse convective weather products are issued by the NWS each year. This FAT allowed participants to see new severe weather products not viewed in Hazard Services before and provide feedback on the warning creation process and the product formats. These tests ensure a mature software and training program is in place before these mission-critical products are issued operationally for consumption by the public and across the weather enterprise.
During this FAT, forecasters used four AWS Cloud Instances with the Advanced Weather Interactive Processing System (AWIPS) and Hazard Services installed to evaluate the new workflows. New for this test, forecasters had access to four NWS Weather Forecast Office (WFO) site configurations with historical radar data flowing in real-time so forecasters could track and issue warnings on thunderstorms, dust storms, and snow squalls just like they would in their office.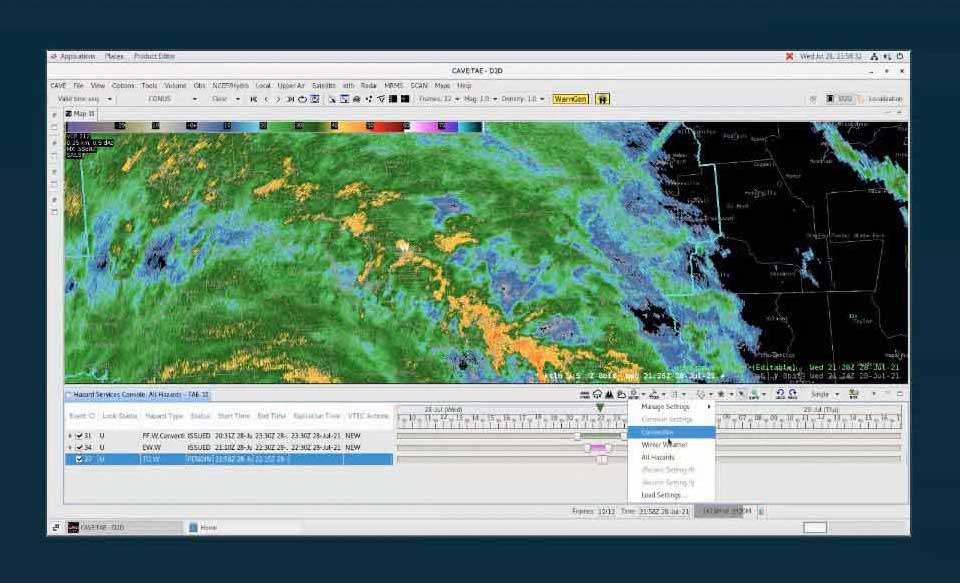 Participants offered their impressions:
"Cannot say enough good things about this group and the software. This evolutionary framework is easily extensible. There are several dozen tickets opened this week, but I feel they could be easily resolvable. I don't feel that I'm going to walk away this week with tracked items that may not get a solution."
"Very big improvements seen since when I started. Things are getting better, there are fewer issues. Great to get hands-on experience with severe. Kudos to GSL team. We love Jim Ramer. Honest conversations about how a problem could be solved, GSL open to making changes to improve the workflow. Love the ability to rapidly get updates. A great experience."
"I'm impressed with the Hazard Services team. They can quickly respond to feedback and update code to fix/patch things that are being found."
"While there were a lot of things that were found, having dynamic fixes that are available the next day is amazing. This is why we love GSL. Responsive and iterative development. Confident GSL understands what is needed and is looking forward to the next testing session."
"Hazard Services is a wide ocean of capabilities. Hazard Services is great but the issues brought up at this FAT being addressed would make it better. A slip in the schedule would be preferred to make sure everything is fixed and the training is ready and this is ready to go. Overall, fantastic effort to get this base functionality to replace WarnGen."
"GSL puts in a lot of effort to implement this capability into Hazard Services. This is a first cut at looking at the convective workflows and there were some critical issues that GSL will need to address. We know that through working with GSL and iterating through the development, that these issues will be addressed and the system will be in good shape."
"Pretty impressed with what was shown. A lot of changes made under the hood and the system is performing better than expected. GSL very responsive and interested in getting the forecaster's point of view."
The next FAT is expected to be fall/winter 2021-2022.