In the summer of 2022, Alaska experienced a distinct shift in the spread of wildfires from the usual interior to the southeast region. More areas burned in southeast Alaska in the span of one summer than in the past 70 years combined. Amidst significant changes in fire weather behavior, accurate and rapid smoke modeling is key in protecting human health and safety. NOAA's operational HRRR-Smoke model supported operations at the Alaska Interagency Coordination Center as they navigated these fires.
HRRR-Smoke predicts concentrations of smoke at the surface and aloft through nearly 20 kilometers of the atmosphere. HRRR-Smoke calculates biomass burning emissions, fire size, and heat production using a combination of weather data and inputs from four NOAA-NASA polar-orbiting satellites. According to Heidi Strader, Fire Weather Program Manager at the Alaska Interagency Coordination Center, "the HRRR model was repeatedly superior to the others in showing smoke movement and comparable density and became [the] model of choice this summer."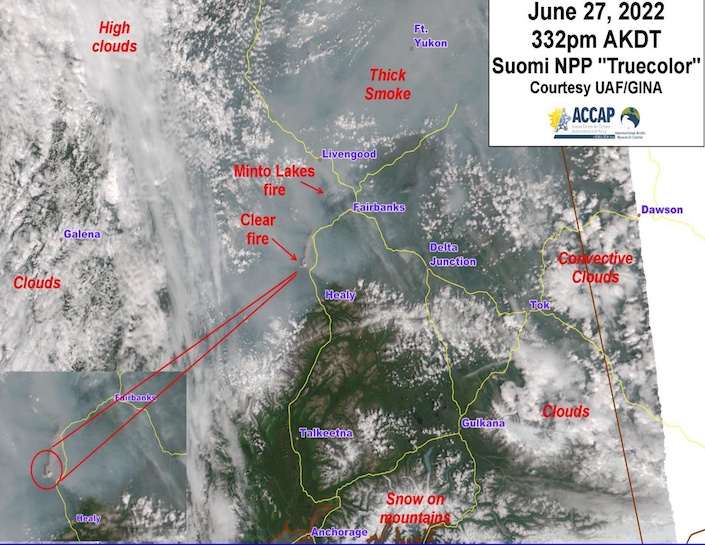 The image to the right was tweeted when the smoke was at its peak.
Alaska has relatively few roads and relies mostly on air transportation, making accurate predictions of smoke concentrations crucial. Many villages in the state are only accessible by boat or plane, and heavy smoke means transportation in and outcomes to a standstill. Most critically, many residents in remote villages need to be informed of poor air conditions as soon as possible in order to avoid getting trapped in these remote communities. HRRR-Smoke's rapid predictions helped expedite warnings and ease this process.
HRRR-Smoke was also used directly in firefighting planning. The model forecasts were used to help fire managers determine areas of low and high visibility. When smoke is too dense in a certain airfield, firefighting resources at that location cannot be deployed. Since it is crucial to optimize the resources available, aircraft and personnel were staged at different locations depending on smoke movement. Using the forecasted smoke concentrations to create flight plans minimized the number of days in which air regions were inaccessible. Using HRRR-Smoke for flight planning eliminated situations that prevented aircraft and resources from deploying from a particular location, which is a significant feat.
In times of severe fire weather in Alaska, HRRR-Smoke helped support resiliency and protect public health. The model continues to be applied in other locations throughout the United States. Thank you to Heidi Strader of the Alaska Interagency Coordination Center for providing the information for this article.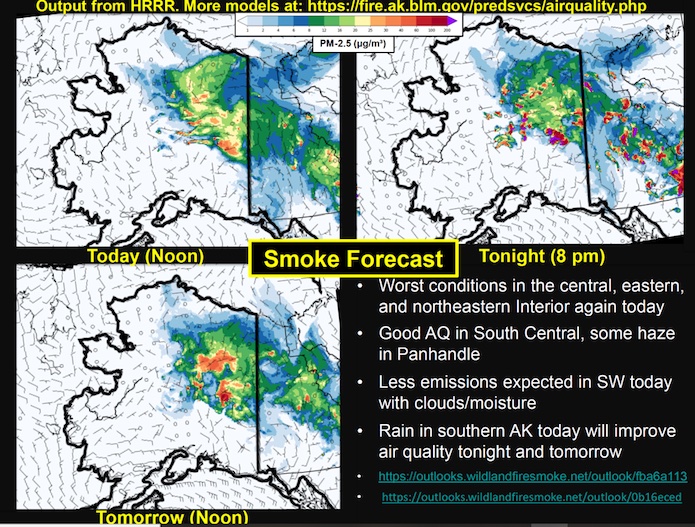 An example of near-surface smoke predictions from HRRR-Smoke used in the Alaska Interagency Coordination Center Daily Briefings