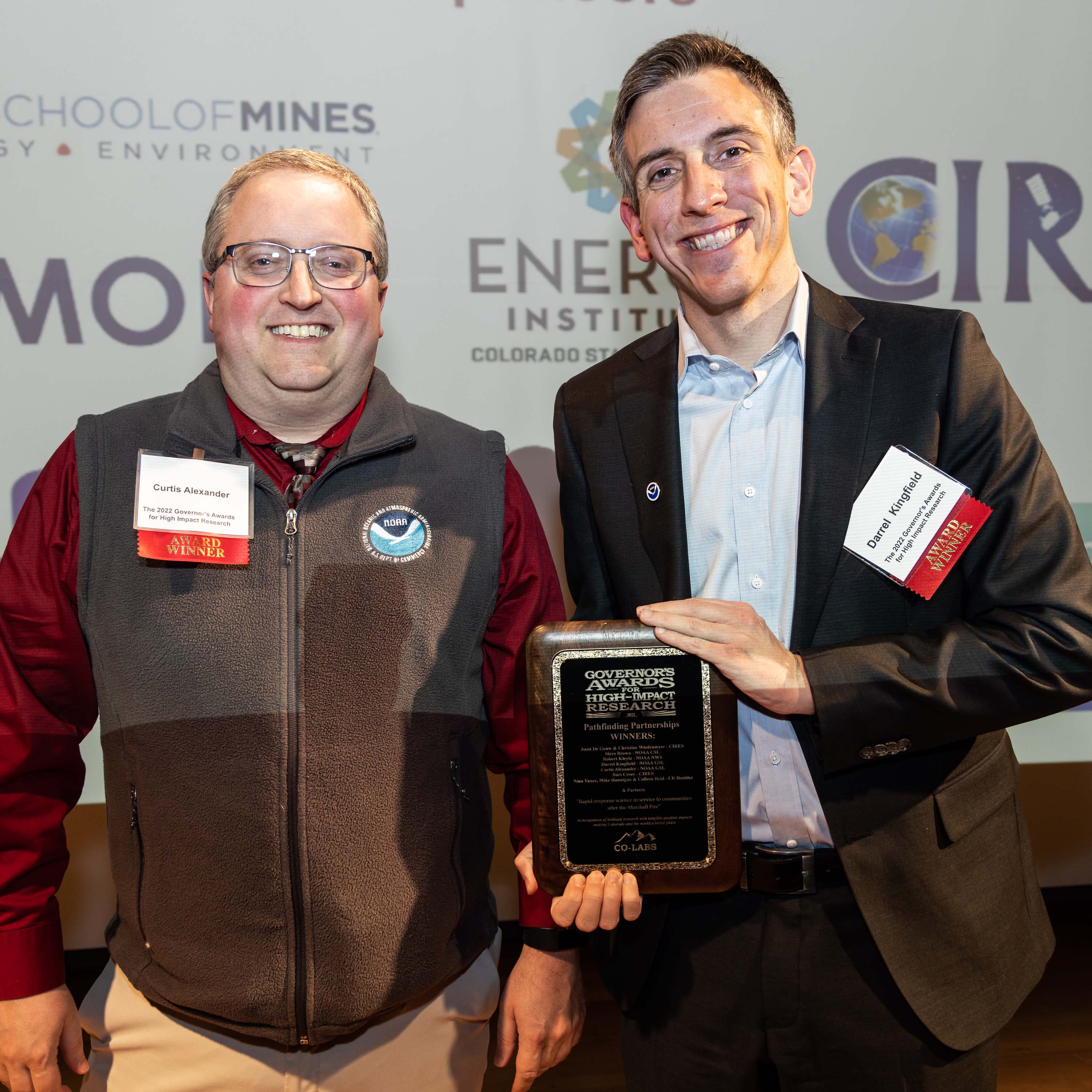 NOAA GSL, Chemical Sciences Laboratory (CSL), CIRES, and CIRA researchers, along with NOAA National Weather Service (NWS) Denver/Boulder forecasters, were awarded the CO-LABS 2022 Governor's Award for High-Impact Research in a ceremony on Wednesday, December 14, 2022 at the Denver Museum of Nature and Science. CO-LABS honored the team in the "Pathfinding Partnerships" category for service to communities during Colorado's Marshall Fire. The Marshall Fire on December 30, 2021 is the most destructive fire in Colorado's history, in terms of structures lost.
GSL, CIRES, and CIRA researchers developed the weather models and decision support system the NWS forecasters used during the event. In the early morning, about six hours before the fire ignited, the model predicted a classic downslope windstorm with sustained high winds with gusts exceeding 90 miles per hour at the base of the foothills near Boulder and Jefferson counties. After six months of drought and record warmth, the trees, grass, and shrubs were tinder-dry. GSL also developed the system the forecasters used to issue the high-wind warning, Hazard Services. Hazard Services is designed to streamline the watch and warning process and is being incrementally deployed to all NOAA NWS and National Centers for Environmental Prediction offices. CSL provided measurements of air quality in the destroyed neighborhoods to inform emergency managers about harmful particulates that may linger in the air. This quick decision-making, accurate forecasting, and effective communication protected lives during extreme fire weather.
The GSL, CIRES, and CIRA modeling team includes: Curtis Alexander (GSL), David Dowell (GSL), Steve Weygandt (GSL), Terra Ladwig (GSL), Stan Benjamin (GSL/CIRES), John Brown (retired, visiting scholar), Joe Olson (GSL), Ming Hu (GSL), Trevor Alcott (GSL), Dave Turner (GSL), Amanda Back (GSL/CIRA), Jeff Duda (GSL/CIRES), Guoqing Ge (GSL/CIRES), Eric James (GSL/CIRES), Haidao Lin (GSL/CIRA), Hongli Wang, Ravan Ahmadov (CIRES), Hanna Barnes, Siwei He (GSL/CIRES), , Tanya Smirnova (GSL/CIRES), Michael Toy (GSL/CIRES), Jason English (GSL/CIRES), Venita Hagerty (GSL/CIRA), Jeff Hamilton (GSL/CIRES), Brian Jamison (GSL/CIRA), Bill Moninger (GSL/CIRES), Randy Pierce (GSL/CIRA), Molly Smith (GSL/CIRES), Bonny Strong (GSL/CIRA), Ed Szoke (GSL/CIRA), Samuel Trahan (GSL/CIRES), John Brown (retired GSL, visiting scholar), Jaymes Kenyon (NWS).
The GSL Hazard Services team includes: Darrel Kingfield (GSL), Suneng Zhuo (CIRES/GSL), Chris Golden (CIRES/GSL), James Ramer (CIRA/GSL), Vada Dreisbach (CIRES/GSL), David Tomalak (GSL), Tracy Hansen (CIRES/GSL), Tom LeFebvre (retired GSL), Nathan Hardin (GSL), and Daniel Nietfeld (GSL)
CO-LABS is a non-profit organization that supports the state's federally funded research centers and runs an annual competition to highlight some of Colorado's most high-impact science. Launched in 2009, The CO-Labs Governor's Awards celebrate ground-breaking discoveries and research from Colorado's federally funded laboratories and institutions.