Skip to main content
GSL innovations selected for new forecast model prototype
April 18, 2022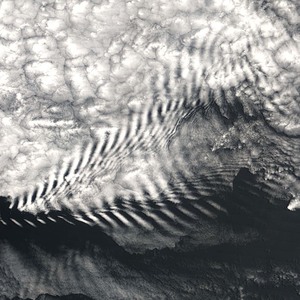 By Michael Toy, Shan Sun, Ning Wang, and Ligia Bernardet
New versions of the Global Forecast System (GFS) and Global Ensemble Forecast System (GEFS) will be implemented in operations at the National Weather Service (NWS) in 2024. The GFS and GEFS are numerical weather prediction models widely used by forecasters in the NWS and private companies to provide guidance for creating forecasts. Better models directly translate to better forecasts, which are used by decision-makers to protect life and property.
Forecasters have listed a number of areas in which the models need improvement, including temperature, moisture, and winds near the Earth's surface and aloft. The Global Systems Laboratory Earth Prediction Advancement Division has contributed two significant advancements for potential use in the GFS and GEFS models.
Michael Toy enhanced the representation of atmospheric gravity waves by including the effects of smaller-scale variations in topography. Gravity waves move through the stable atmosphere and can cause turbulence or enhance already intense storms. Initial tests show it improves the forecast of near-surface winds.
Ning Wang and Shan Sun used the latest MODIS and Landsat satellite observations to better define the boundaries between the land, the sea, and the lakes in the model (referred to as the land-sea-lake mask). This impacts the transfer of heat and moisture between those components of the Earth System and benefits the forecast of temperature and humidity. They also used a dataset from the European Centre for Medium-Range Weather Forecasting (ECMWF) to specify the depth of the lakes. The use of a consistent land-sea-lake mask throughout the model makes it possible to conserve flux quantities during air-sea coupling and was shown in initial tests to improve the forecasts.
The innovations in gravity wave representation and land-sea-lake representation have been accepted by the National Weather Service for inclusion in the final prototype for the next version of GFS and GEFS. This prototype will be used to compute hindcasts (forecasts for past events) and the results will be compared against those produced by the current versions. The results will be used to make final adjustments to the prototype before its 2024 operational implementation.
This work was presented at the 2022 American Meteorological Society annual meeting.