Skip to main content
Distinguished career of Dr. Stan Benjamin
July 28, 2022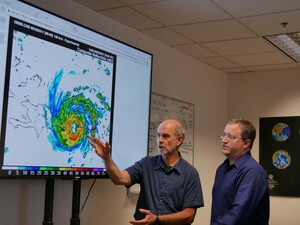 GSL celebrates the distinguished career of Dr. Stanley G. Benjamin. Dr. Benjamin has an outstanding scientific and service record at the nexus of meteorological research and its extension to earth-system prediction with operational prediction. For more than 40 years he has led and contributed to a broad range of research to develop weather models, with emphasis on more advanced representation of earth-system processes (clouds, land) and the impact of new observations on mesoscale models through advanced data assimilation systems. Dr. Benjamin's exceptional skills and leadership have revolutionized high-impact weather prediction in the United States.
Dr. Benjamin forged unusual collaborations throughout his career to achieve milestones toward improved prediction. He was the main developer initially of the Rapid Update Cycle (RUC), a 60 km, 3-hour cycle operational data assimilation and numerical forecast system at the National Centers for Environmental Prediction (NCEP) in 1994. Developed to meet the increasing needs from the aviation community through discussions with the FAA and collaboration with the University of Miami, the RUC was the first sub-12-hour assimilation cycle model at NCEP (and even internationally), and was the first model in the world to use isentropic coordinates for data assimilation, a technique developed by Dr. Benjamin.
By 1998, Dr. Benjamin's work on RUC had brought resolutions to 40 km with the first 1-hour update cycle in the world using newly available automated aircraft data and wind profiler data. RUC was also the first use of multi-species bulk cloud/microphysics parameterization and a 6-layer land-surface model in an NCEP model (through collaboration with NCAR and FAA). By 2005, his research resulted in a 13km RUC, the first model at NCEP with cloud assimilation resulting in the improved cloud, ceiling, and visibility forecasts. He also introduced the first assimilation of national-scale radar reflectivity data into RUC using a radar-latent-heat and digital filter initialization technique. RUC became the backbone for aviation and severe weather guidance in the U.S. The constant theme was the development of advanced physical representations (and numerics) and assimilation of novel observations (aircraft, profilers, surface obs, GPS-PW, sat clouds, radar reflectivity, ceiling), all demonstrated in articles and before used elsewhere.
Building on the success of the RUC, Dr. Benjamin developed an improved system for North America, the 13km Rapid Refresh (RAP), which was the most significant use of the community Weather Research and Forecasting (WRF) model to date. Close collaboration with NCAR was central to this success. The 13km RAP provided hourly updated NOAA guidance for the first time over all of North America, including Alaska, Central America, and the Caribbean Sea. He and his team also applied community Gridpoint Statistical Interpolation assimilation to RAP and added a cloud/radar assimilation component. The first version of RAP went into operations in 2012, and version 2 significantly improved the convective environment by 2014.
In the yet-largest step in 2014, Dr. Benjamin and his team delivered a 3-km hourly-updating High-Resolution Rapid Refresh (HRRR) model to the NCEP. The HRRR transformed weather prediction even in its experimental version. The HRRR has improved aviation forecasts at air terminals and aloft, reducing air traffic delays which cost the airline industry billions of dollars annually. It provides guidance for in-flight icing, thunderstorms, cloud ceilings, visibility, wildfire smoke, and other hazards that impact aviation safety and efficiency. Energy companies use the HRRR to optimize the production of wind and solar energy, lowering consumer costs. Decision-makers and emergency managers use the HRRR to guide people to safety during environmental crises including severe weather and wildfires. Benjamin's team won two Department of Commerce Gold Medals (2006, 2015), three Bronze Medals (1998, 2010, 2021) for the HRRR model and its ground-breaking predecessors. These models have revolutionized weather forecasting and provide communities more time to prepare for high-impact weather.
Dr. Benjamin and his team pioneered adding non-conventional observations to data assimilation, especially for radar reflectivity and aircraft data. Through showing the value of data from new observing systems, he became the primary scientist contributor to the regional Observing System Experiments (OSE) results at WMO Observation Impact workshops in 2004-22.
Dr. Benjamin cultivated relationships that connected both research and operations, a unique skill found in very few scientists. He made the original connection with Delta and United Airlines to obtain automated aircraft data, and made frequent visits not only to forecast offices and national centers around the U.S., but also to DOE and FAA and hydrology/lake community, to understand how NOAA could contribute to model improvements.
Dr. Benjamin was invited to serve on the prestigious Interagency Council for Advancing Meteorological Services (ICAMS). ICAMS is a Cabinet-level Council in the United States Government Executive Branch charged with ensuring that the U.S. leads the world in meteorological services via an Earth system approach, providing societal benefits with information spanning local weather to global climate. ICAMS membership includes Cabinet Secretaries and Agency Heads with significant science and technology responsibilities, plus other White House officials. Dr. Benjamin serves as the co-chair of the ICAMS Committee on Research and Innovation. He also served in key JCSDA, Decadal Survey, and NSF panels.
Dr. Benjamin's career goal was to have an impact on operational weather prediction with broad applications for severe weather, aviation, energy, hydrology, health, and agriculture. Dr. Benjamin's wide-ranging and outstanding accomplishments show that he has achieved his goal.