Skip to main content
New study: Better forecasts lead to smaller losses in work time
October 27, 2021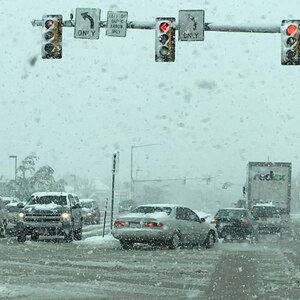 New research has shown that adverse weather conditions such as rain, sleet, and snow lead to significant increases in both commute time and driver risk. This imposes significant costs on both individuals and the economy. A recent study by Colorado State University (CSU) and NOAA's Global Systems Laboratory (GSL) scientists quantifies the economic gains that result from commuters making decisions using more accurate NOAA precipitation forecasts. The study was published in the Wiley journal "growth and change" by CSU's Brad Hartman, Harvey Cutler, Martin Shields, and GSL's Dave Turner.

Between 1990 and 2018 the average U.S. commute time increased 20%, with the typical working American now spending nearly one hour every day driving to and from their workplace. Because of these significant commute times, workers are likely paying increased attention to factors that may impact their daily commute, including weather-related changes in road conditions.
In 2014 NOAA began using the High-Resolution Rapid Refresh (HRRR) numerical weather prediction system to provide operational weather forecasts for the NOAA National Weather Service. HRRR is a real-time model with 3-km resolution, updated hourly, and is the premier model used for high-resolution severe weather forecasting by the NWS. Since its initial release in 2014, the HRRR model has been upgraded three times.
Researchers simulated the economic value of the first two updates with respect to commuting times, using forecasts from the first three generations of the HRRR system. They compared forecasts from each model to observed precipitation data for the nation's 206 largest metropolitan areas (per the U.S. Census). The results of the study showed that improvements to the forecasts lead to smaller losses in work time, creating notable gains to the U.S. economy.
This work was partially supported by the Office of the Director, NOAA Global Systems Laboratory