Tracking smoke and its effect on the surrounding environment is an important area of research in both global and regional numerical weather prediction systems. This new research begins the process of creating an ensemble-based system for forecasting wildfire smoke. Researchers extended the National Severe Storms Laboratory's Warn-on Forecast System (WoFS) by integrating the smoke plume forecasting algorithm used in GSL's High-Resolution Rapid Refresh Smoke (HRRR-Smoke) model, creating an experimental WoFS-Smoke model.
The rapid cycling, ensemble-based WoFS generates short-term forecasts (0-6 hours) of high-impact weather such as storm rotation, hail, and heavy rainfall. It currently assimilates radar and satellite data at fifteen-minute intervals to account for rapidly evolving weather. With the integration of the HRRR-Smoke smoke emission and fire plumerise algorithm, it can now forecast large-scale smoke movement from wildfires for the first time.
WoFS-Smoke was tested in the summer and fall of 2020 on three wildfire cases in Arizona, California, and Colorado. The study found that WoFS-Smoke produced a realistic representation of wildfire smoke when compared to satellite observations. They also found that including smoke in the system reduced forecast errors due to smoke's radiative effect on surface temperature.
Researchers compared the maximum height of debris lofted by the fire and detected by radar with the forecasted maximum aerosol height. Radar detectable debris should fall out of the atmosphere much faster than smoke aerosols. In one case, the debris is present higher in the atmosphere than the forecast smoke plume, indicating WoFS-Smoke still has room for improvement. However, including smoke in the model improved forecasts of temperature, especially in areas where there was thick smoke.
Future improvements to the prototype system include ingesting current and future GOES-R satellite Fire Radiative Power retrievals, and improved links between wildfire characteristics and the surrounding environment.
The full publication can be found here.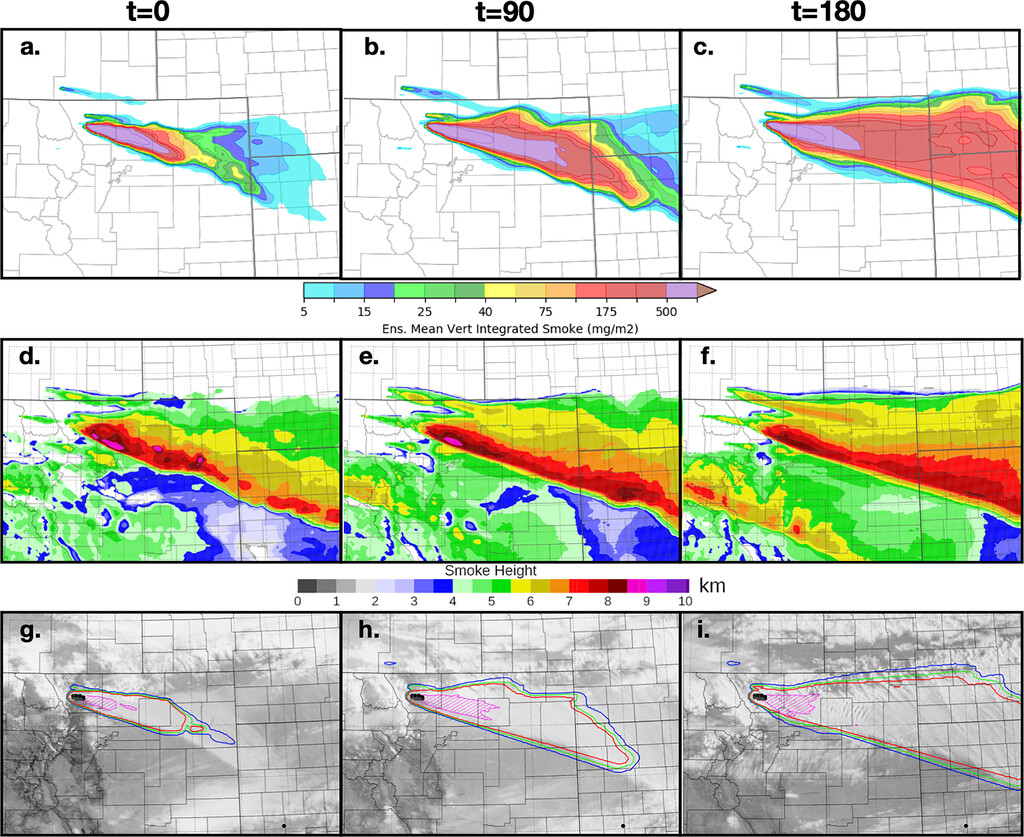 Image caption: a)–(c) Ensemble mean vertically integrated PM2.5 (smoke) forecasts from WoFS-smoke for 0-, 90-, and 180-min forecast times. (d)–(f) Maximum smoke aerosol height defined as the maximum level where smoke is greater than 0.1 mg kg−1. Note that the coverage of aerosols appears larger on the height plots since the relatively small total column values for thin layers of smoke do not appear on the top row of plots so the color scale can emphasize smoke plume characteristics. (g)–(i) The probability of vertically integrated PM2.5 (smoke) > 50 mg m−2 contours at 10% (blue), 50% (green), and 90% (red) overlaid on GOES-17 visible imagery valid at each forecast time. Also overlaid in pink is the area where the standard deviation of vertically integrated smoke over each ensemble member for the same forecast times is >200 mg m−2. Black dots indicate the locations of model analyzed hotspots at 2200 UTC.