Skip to main content
Evaluation and Decision Support Division
The Evaluation and Decision Support Division (EDS) develops state-of-the-art environmental forecast, decision support, visualization, and evaluation capabilities to provide scientifically robust forecast assessment tools, concepts, and analyses to support decision-making processes affected by the weather.
Our customers include National Weather Service (NWS) forecasters; Federal Aviation Administration (FAA) air traffic controllers and air traffic managers; airline dispatchers; and general aviation pilots. EDS collaborates with the Departments of Defense, Energy, and Interior (Bureau of Land Management). We also work with international agencies in Taiwan and the Philippines.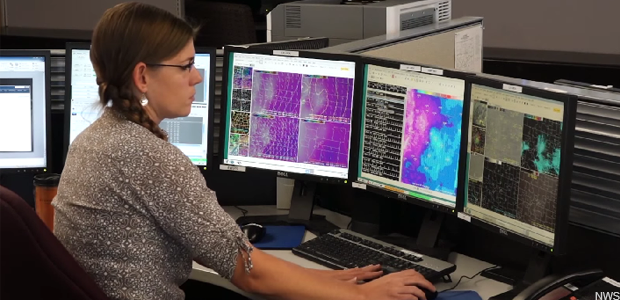 EDS expertise:
The NWS's Advanced Weather Interactive Processing System (AWIPS)
Data management and processing capabilities to enhance situational awareness and allow forecasters to work more efficiently
User-focused verification techniques and tools that generate and display statistical information in near real-time, to support decision making in aviation and power transmission
NWS tools that forecast weather hazards, and foster collaboration among stakeholders
Web tools for visualization of environmental data to support forecast, warning, and decision support activities
Support services for weather system development and compliance with security requirements
Hazard Services are advanced tools, currently in development in AWIPS, for issuing timely and accurate hazard information.
EDS Branches
Weather Information Systems Evolution Branch (WISE)