Skip to main content
GSL offers new educational tour "HRRR Smoke and 2020 fire season"
Nov 09, 2020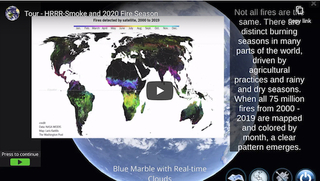 Four million acres burned in California alone this year, making 2020 a record fire season for the Western U.S. To explore this historic wildfire season, The Global Systems Laboratory's (GSL) Science On a Sphere® (SOS) team released a new interactive educational tour about the 2020 wildfires on its free mobile app - SOS Explorer™ (SOSx). "Tour - HRRR Smoke and the 2020 fire season" explores how NOAA satellites detect fires and how atmospheric research models like the High-Resolution Rapid Refresh - Smoke model can predict how smoke from wildfires will move in the atmosphere. The tour includes post-tour exercises for students.
Science On a Sphere Explorer™ datasets can be quite complex. Tours guide users through a story using science datasets in a way that makes them understandable and more tangible. Tours incorporate supplemental media - images, videos, audio, webpages - as well as text and questions to support user learning.
You can find more tours here: https://sos.noaa.gov/education/sosx-tours/
Do you have an idea for a tour? Reach out to hilary.peddicord@noaa.gov