Skip to main content
GSL co-hosts a successful virtual SOS Workshop
Dec 21, 2020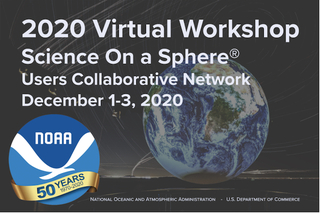 GSL and the NOAA Office of Education co-hosted the 10th Science On a Sphere® (SOS) Users Collaborative Network Workshop December 1-3, 2020. This year it was held virtually for the first time with were more than 200 participants from eight countries and 68 presenters. GSL researchers hosted five sessions.
The theme of the workshop was "Celebrating NOAA's 50 years of science, service, and stewardship." The workshop showcased presentations submitted from participants with a focus on the use of visualizations for education as well as using spherical display systems for providing science educational messages. Keynote speakers included:
Tim Gallaudet Ph.D., Rear Admiral, U.S. Navy (Ret.), Assistant Secretary of Commerce for Oceans and Atmosphere and Deputy NOAA Administrator,
Sandy MacDonald - previous Director of Earth System Research Lab/ Inventor of Science On a Sphere,
Ken Graham - director of the National Hurricane Center
Lars Jan, a visual artist.
Objectives of the workshop were to:
Advance awareness of NOAA's global visualizations that are useful for education
Share best practices in using visualizations for online learning
Support the needs of the user community of SOS
The website for the workshop is https://www.noaa.gov/office-education/sosnetwork/workshops/2020 agenda.