Skip to main content
Student and Internship Opportunities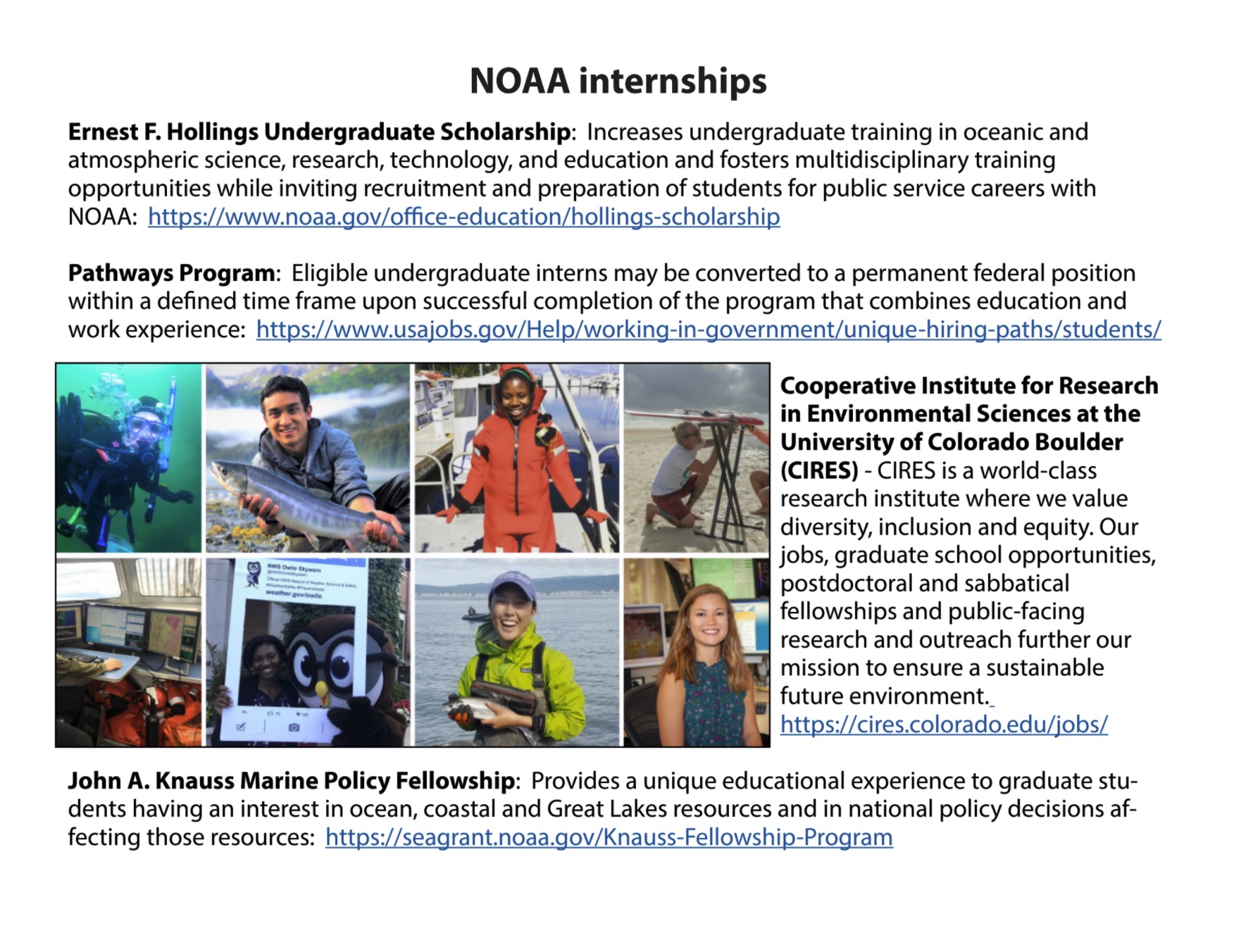 NOAA and GSL Internship Opportunities
**Summer 2024** Professional Research Experience Program GSL/CIRES - Deadline to apply is February 1, 2024
NOAA Education hosts a website with information about scholarships, internships, fellowships, and career development opportunities for high school students through post-doctoral.
Educational Partnership Program with Minority-Serving Institutions: Works to increase the number of students from underrepresented communities, who are educated, trained, and graduated in fields that directly support NOAA's mission. Opportunities are available at the undergraduate and graduate levels.
Ernest F. Hollings Undergraduate Scholarship: Increases undergraduate training in oceanic and atmospheric science, research, technology, and education and fosters multidisciplinary training opportunities while inviting recruitment and preparation of students for public service careers with NOAA.
William M. Lapenta NWS Student Internship Program: Targets current undergraduate and graduate students to work in areas that will meet future needs of the ever-broadening user community and address strategic climate-water-weather issues. Each student will collaborate with one or more scientists at our five centers in College Park, Maryland. Applications due early February.
Pathways Program: Eligible undergraduate interns may be converted to a permanent federal position within a defined timeframe upon successful completion of the program that combines education and work experience.
NOAA Experiential Research and Training Opportunities (NERTO): NERTO EPP/MSI Cooperative Science Center-supported students participating in NOAA mission-aligned research and training at NOAA facilities.
Chesapeake Bay Internships: Bay-related undergraduate and graduate-level internships include opportunities with NOAA as well as collaborative organizations. Experiences include fisheries sampling, data collection and analysis, habitat restoration, GIS skills, and community outreach. Most internships are offered during the summer months, but some may be available at other times of the year.
Office of Ocean Exploration and Research Explorer-in-Training Program: Open to undergraduate and graduate students and recent graduates and provides the opportunity to participate in the Okeanos Explorer ocean exploration mission.
Dr. Nancy Foster Scholarship Program: Provides support for outstanding scholarship and encourages independent graduate-level research in oceanography, marine biology, or maritime archaeology - particularly by women and members of minority groups.
John A. Knauss Marine Policy Fellowship: Provides a unique educational experience to graduate students having an interest in ocean, coastal, and Great Lakes resources and in national policy decisions affecting those resources.
National Marine Fisheries Service/SeaGrant Joint Graduate Fellowship Program in Population Dynamics and Marine Resource Economics: Fellowship for Ph.D. candidates.
Office of Coastal Management Fellowship: Provides on-the-job education and training opportunities in coastal resource management and policy for postgraduate students through project assistance to state coastal zone management programs.
NOAA Climate & Global Change Postdoctoral Fellowship: Appointed fellows are hosted by a mentoring scientist to become the next generation of researchers for climate studies.
NOAA Information Technology (IT) Fellowship Program.
This program is a collaboration between the Office of Human Capital Services (OHCS), the Office of the Chief Information Officer (OCIO), and all Line/Staff Offices that employ IT Specialists. This combined effort will move NOAA forward in developing a high-quality, diverse, entry-level IT workforce. The IT Fellowship Program utilizes the Student Internship component of Pathways Programs. This component allows students currently enrolled in school, at least on a part-time basis, the opportunity for a paid position within NOAA, full Federal benefits, and the option of non-competitive conversion to a permanent position once the degree and program requirements have been met.
2021 Hollings Preparation Program (HPP)
The National Oceanic and Atmospheric Administration (NOAA) seeks to prepare students for career development opportunities in atmospheric and ocean sciences. NOAA aims to support a diverse and qualified pool of applicants, particularly from underrepresented groups*. The Hollings Preparation Program (HPP) will prepare undergraduate freshmen to be competitive applicants for the full NOAA Hollings Scholarship in their sophomore year of college. Successful HPP applicants will be paired with NOAA mentors primarily on the West Coast, including California, Oregon, Washington, Hawaii, and Alaska, for four to six weeks during the summer of 2021**.
---
Opportunities from NOAA partner organizations