INSITE - INtegrated Support for Impacted Air Traffic Environments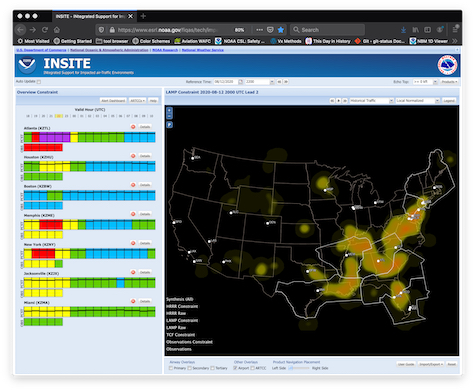 Translates convective forecast products (probabilistic, human-drawn categorical, and high-resolution model) into airspace constraint and combines that with air traffic density information to produce impact-based forecasts and observations. INSITE can be used in real-time as a decision support aid for air traffic management or in look-back mode to evaluate performance on past events.
EVENT - Event-based Verification and Evaluation of NWS gridded products Tool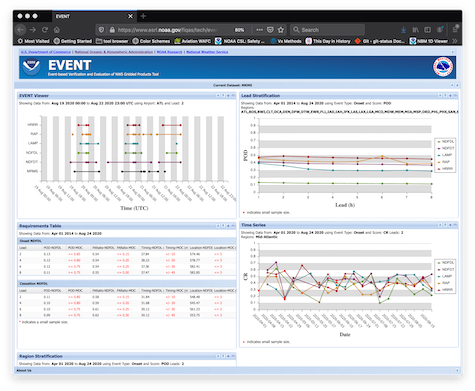 Verifications model, statistical, and human-influenced gridded forecasts of convection within 75 nm of major airports across the country. In addition to standard verification scores (e.g., Probability of Detection), the tool measures spatial displacement errors and timing errors for the onset and cessation of convective events. The verification scores are then compared to targets specified by the FAA-NWS Aviation weather Requirements Working Group (ARWG)
CWVS - Convective Weather Verification Service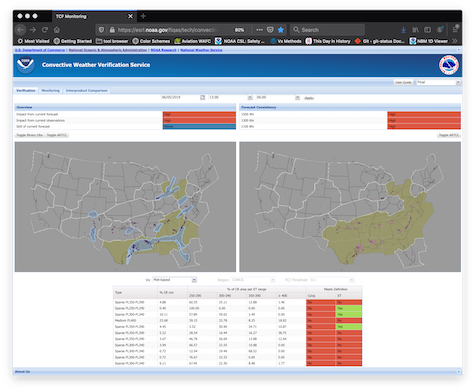 Provides verification of the Traffic Flow Management Convective Forecast (TCF) product issued by the Aviation Weather Center. The human-drawn TCF polygons and the Corridor Integrated Weather Systems radar mosaic are both translated into airspace constraints so they can be directly compared. Verification is then performed in this constraint space as well as according to polygon definitions of convective coverage and the height of storms. This tool is designed to meet specific requirements from the FAA to NWS to provide regular reports on the performance of the TCF.
TFVT - TRACON Gate Verification Tool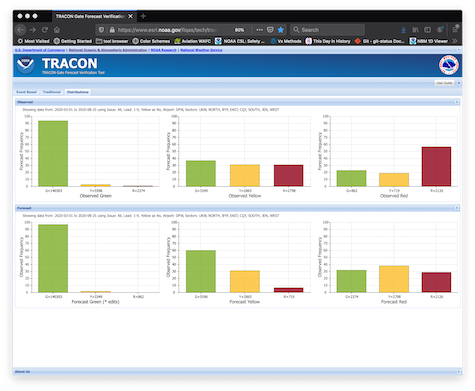 The NWS recently expanded the use of a model-based forecast of convective impact to departure and arrival gates at a number of major airports across the country. This tool verifies both the model-based forecast along with any amendments made by the human forecasters. *TRACON = Terminal Radar Approach Control Facility -- TRACONs cover the transition between take-off and landing (the tower) and en-route flight (ARTCC)
CBVT - CWSU Briefing and Verification Tool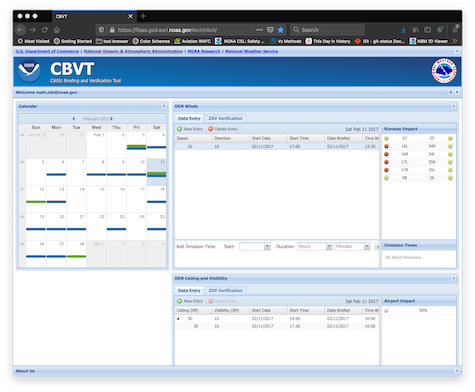 CBVT - The CWSU Briefing and Verification Tool - Gathers data from major airports on forecasted wind shifts impacting operations. The forecasts are communicated by NWS forecasters to FAA Traffic Management Units. The tool verifies the forecasts and assembles the verification so that it can be both reviewed by forecasters and used by NWS management to fulfill requirements on reporting performance to the FAA